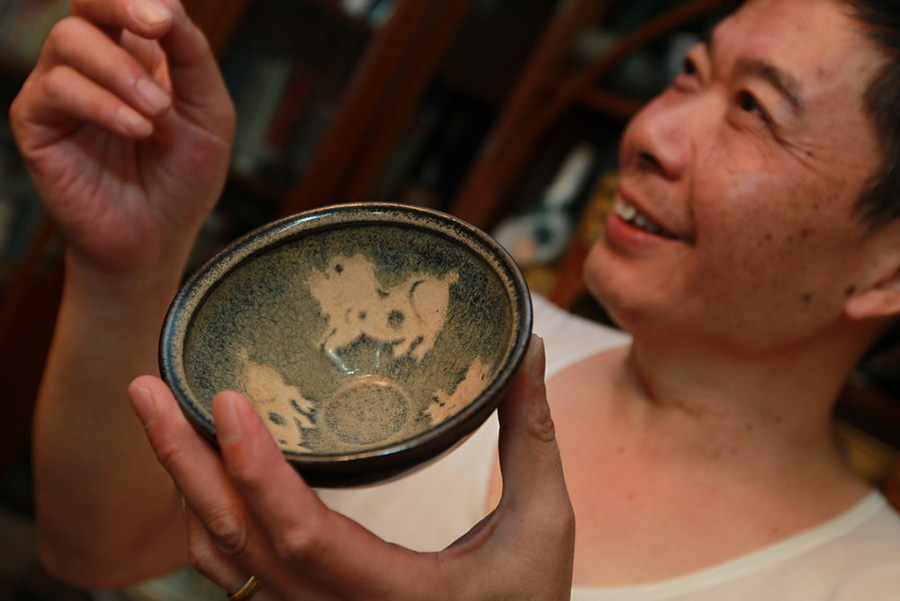 Hu Ping presents his collection of celadon bowl. (CNS/Xinhua)

Hu Ping, a Chinese ancient ceramics collector, was born in Punan Town, Shanghai. The town used to be an important waterway fortress in Ming and Qing Dynasty in ancient China, which has a long history and profound cultural accumulations. Hu was interested in the ceramic chips in the roads of the town, and he started to collect them at the age of 10.
Hu Ping has already collected more than 20,000 porcelain wares, including monochrome-glazed wares, green-glazed wares and colored-glazed wares from the Spring and Autumn Period to Qing Dynasty. The rich and amazing collections of Hu have made his home an antique warehouse. All kinds of porcelain wares are piled against the wall and half of the dining-table is occupied by those wares.
Hu has extensive understanding of ceramic chips. "Ceramics have different types and glazes. There is a story behind every small ceramic chip. It's also a business card of the period," said he.
He got the treasures from more than 100 antique markets. And he also spent time reading in bookstores and libraries, consulting books to learn antique knowledge. When he encounters difficulties, he would turn to some specialists for help. In this way, he has become an expert of porcelain wares.
Hu built a private ancient ceramic museum named Dunben Museum in 2013. The museum was named a Chinese folk museum and is open to public for free.
We recommend: