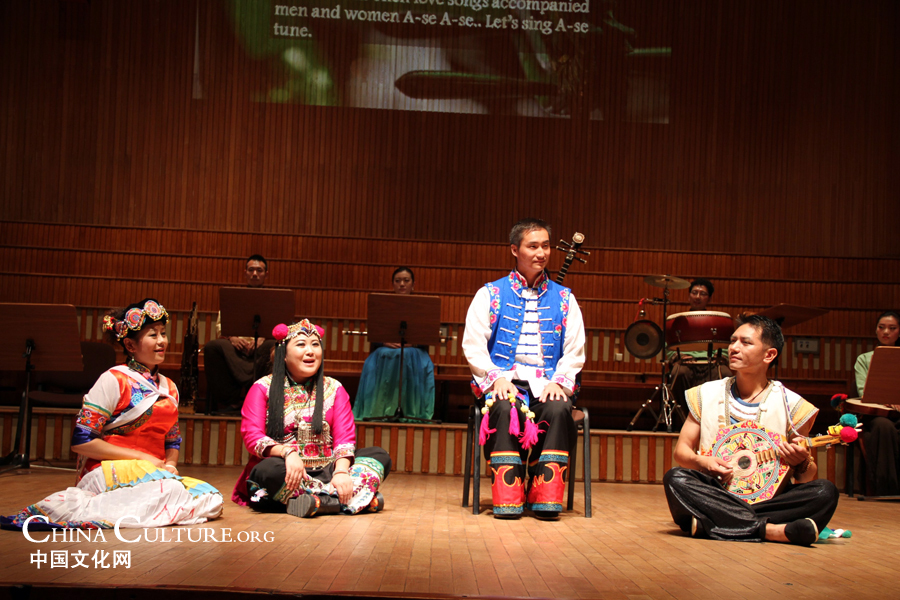 Performers at the ceremony. [Photo provided to Chinaculture.org]
To celebrate the 65th anniversary of the establishment of diplomatic ties between China and Poland, the Chinese Ministry of Culture and Poland's Ministry of Culture and National Heritage jointly launched a music concert titled the Voice of Yunnan on Sept 19 at the performance hall of the Frederic Chopin University of Music. Over 500 people attended the event, including officials, representatives, leaders from all sectors of Poland and cultural celebrities.
Xiang Zhao, deputy minister of Chinese culture, gave a speech at the ceremony. He said that China and Poland have established a deep friendship for 65 years. Cultural exchanges connected both countries and deepened understanding of each other. "The Voice of Yunnan concert is a fine program to protect the cultural diversity of the Chinese ethnic group. I wish that it can help Polish residents have a further knowledge of Chinese ethnic music." said Xiang.
This cultural week is a good opportunity for the Polish people to know Chinese culture. In 2015, Poland will launch a series of cultural promotional activities in China.
The Voice of Yunnan was full of ethnic favor and reflected the life and production of people living in Yunnan province. It showed locals' love of nature, life and pursuit of the ideal. The repertoire at the concert focused on nature and was compounded with different tracks from the Dai, Jingpo, Tibetan, Va, Yi, Hani, Blang and Naxi ethnic groups. In addition, over 30 traditional instruments were unveiled at the concert. The audience enjoyed the exotic ethnic music and drew enthusiastic applause.
During the one-week China ethnic cultural exchanges, there also will be an ethnic clothes exhibition, intangible cultural relics exhibition, tea art show, paper cutting performance and a seminar on the protection of ethnic culture.
We Recommend: