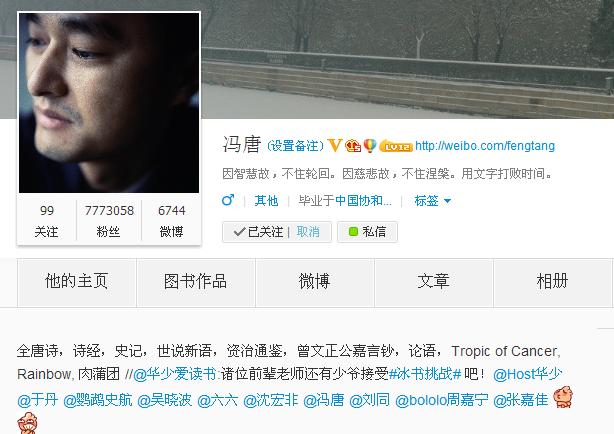 Screenshot of Chinese writer Feng Tang taking the Book Bucket Challenge.

Since the Book Bucket Challenge went viral on Facebook the trend has swept onto China's Twitter-like platform Sina Weibo.
The meme asks users to list the 10 books that had the greatest impact on their lives and then forward the challenge by tagging friends.
Recommendations snowballed and hit Sina Weibo on Sept 5 as writer and translator Fang Bolin listed 10 books. Hong Kong writer Liao Weitang later followed suit.
The challenge began picking up and on the evening of Mid-Autumn Day was listed among the hot keywords on Sina Weibo. Up to the morning of Sept 11, more than 10,000 users had accepted and the topic had drawn 28,000 comments.
However, the meme has not attracted as many public figures as those drawn to the Ice Bucket Challenge. A user known as Dongdongqiang said the book challenge is just poor people's version of the ice challenge.
The book challenge has no charity or fund-raising aspect but is still praised. Screenwriter Shi Hang said: "Book recommendation is the greatest charity to my mind."
Most frequently nominated books so far are:
Works by Wang Xiaobo
Works by Wang Shuo
The Adventures of Sherlock Holmes
Legend of the Galactic Heroes
Dictionary of The Khazars
Romance of the Three Kingdoms
Dream of the Red Chamber
We recommend: