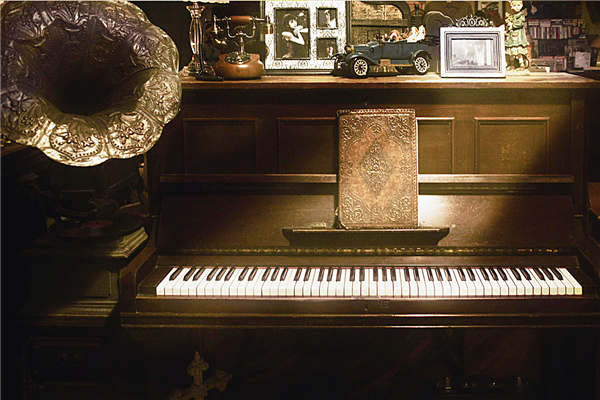 Robinson Piano. This is the item Wang cherishes most among her collected items. The antique piano dates back to the 1870s. It used to belong to a mission school in Shanghai. The piano keys are made of ivory and to her, this is the most precious item in her museum.
She was still a college student majoring in music and to earn enough money for her collections, she took on part-time jobs selling clothes and books and working in restaurants.
She even moonlighted as a singer in a bar, and kept that from her very strict parents.
" I was kind of famous. I walked into any bar along Hengshan Road and they would welcome me."
As her collection accumulated, she finally set up the museum in 2008. Visitors can touch and feel the old items full of Shanghai flavor and the space is also used as a photo studio where customers can dress in the costumes of the 1930s.
It is also a cute and comfortable space for friends to have afternoon tea, and there is even a small bar for friends to gather.
Wang makes sure there are plenty of retro snacks and beverages available here.
Many of the museum visitors became her friends, although Wang is still single, saying she is too busy to develop a relationship. She has not had a vacation in years.
" I detest people asking me why I am not married or why I work so hard to maintain a museum that barely makes money. I love my museum. I am happy and rich," she says.
IF YOU GO
Opening hours are from 1 pm – 5 pm, when admission is 100 yuan ($16) per person. From 7:30 pm to 11:30 pm, the charge goes up to 200 yuan per person.
110 Lintong Road, Hongkou district
Please call 021-6535-0498 to make an appointment.
We Recommend: