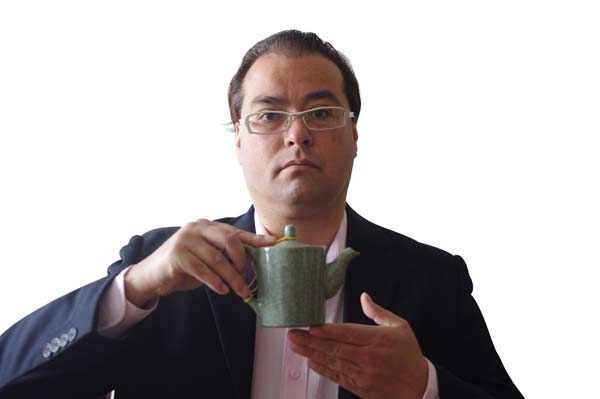 Photo provided to China Daily
He started to forage through book markets to find any kind of English book related to Chinese tea culture. He stumbled upon an English translation of The Classic of Tea, written by Lu Yu (AD 733-804) in the eighth century.
The more he read, the more Pel-tier was determined to visit China.
"Translation of the classic is awful. I wanted to find the original book and write a better English tea book to allow more Westerners to understand the profound tea culture of China," Peltier says.
But before moving to China, Peltier knew he had to learn the language well enough to converse.
Luckily, with satellite TV becoming more widespread in the 1990s, Peltier had greater access to Chinese television, everything from medical dramas to legal thrillers.
"Whenever the characters said something I didn't understand, I noted it down and looked it up in the dictionary and I repeated what they said on TV," Peltier says, adding he spent an average of five hours watching shows every day.
In 2006, Peltier finally arrived in Fujian province, an area known for its tea culture.
He worked in Longyan city as an English teacher, and was thrilled when he discovered a tea shop on almost every street corner.
"I dropped by a shop to sit and drink, and the tea they sold turned out to be Tieguanyin, which is floral and fresh," Peltier says.
"Later I bought a tea set in my house and made brewing, drinking and researching my daily routine," Peltier says.
A year later, Peltier moved to Fu-zhou, the provincial capital, with his wife, a Fuzhou native whom he met in Longyan.
Still working as an English teacher, Peltier continued to research tea in Fuzhou and was pleased to discover the city's trademark export, jasmine tea.
After a lot of research and gathering about 50 ancient tea monographs, Peltier began writing his own tea book in 2008.
We Recommend: