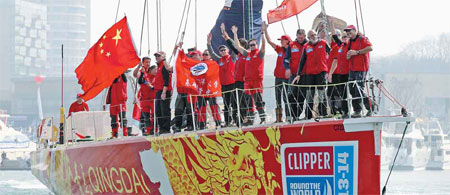 The Qingdao, China's entry in the Clipper Round the World Race, leaves Qingdao International Marina for San Francisco at the start of the sixth leg on March 16. Xu Chongde / for China Daily
Tsingtao Brewery
The host brand of the festival, Tsingtao, was named after the city in 1903. It is now China's second largest brewery in terms of production volume and ranked first among Chinese beer brands with an estimated brand value of nearly 80.59 billion yuan, according to the list of the Top 500 Most Valuable Chinese Brands 2013.
Visitors to Qingdao Beer Museum get the chance to drink the authentic beer at the 100-year-old brewery. The original factory is preserved and there is always a glass of free fresh beer for people to sip at the end of their tour.
Covering more than 6,000 square meters, the museum is an occidental two-storey red building constructed in 1903 by Germans. It is the first museum of its kind in China and allows visitors a rare insight into the origins and history of Tsingtao.
The museum has three areas: history and culture, production techniques and a multi-functional area. A vintage electric motor, which was made by Siemens and is the oldest surviving model in the world, is the museum's most valuable treasure.
Apart from the historic relics, the museum is also known for its drunken cabin, an interactive entertainment facility where visitors can experience the sensation of drunkenness without drinking.
We Recommend: