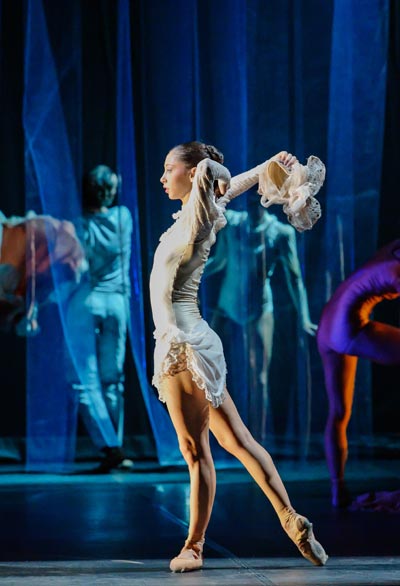 The ballet Marco Polo by Nice Opera Ballet takes the audience on an incredible journey and features the discovery of the East by the West. Photo provided to China Daily
Every spring, Hong Kong and Macao are transformed into la vie en rose, as all things French descend upon the two cities. Le French May is arguably Asia's most encompassing festival. It's organized by the Consulate General of France in Hong Kong and Macao. This year will feature more than 120 exhibitions and performances, plus culinary and cinematic delights. This year's Le French May marks the 50th anniversary of diplomatic relations between China and France with a collaborative roster highlighting similarities between the two countries.
"On Jan 31, 1964, in the Elysee Palace, (former French president) Charles de Gaulle concluded a press conference by a remark on what he called the 'affinities' between France and China," says chairman of the board of Le French May Andrew S. Yuen.
"These cultural and historical 'affinities' have been reactivated and serve as the fulcrum of a new joint global ambition sent through the 2014 edition of Le French May. Hong Kong and Macao will once again greatly benefit from French and Chinese humanistic traditions. In an era of unprecedented interdependence, it is the quality of their articulation which makes a difference."
Consul general of France in Hong Kong and Macao Arnaud Barthelemy says: "Le French May 2014 will focus on Sino-French cultural cross influence." In visual arts, the Hong Kong Museum of Arts will present the works of the Chinese painters who worked in Paris during the early 20th century and met with French artists, such as Picasso or Matisse.
They consequently renewed the codes of their own arts and became famous masters, from Lin Fengmian and Chang Yu to Zao Wou-ki or Zhu Dequn.
We Recommend: