Miao people play local musical instrument made of bamboo.
Years ago I saw a picture in a magazine of a group of men dressed in dark-hued clothes, their hair in topknots and hunting rifles slung over their shoulders, standing before a mountain village. The caption read, "China's last tribal gunmen." They were residents of Basha village in Qiandongnan Miao and Dong autonomous prefecture in Guizhou, southern China. From time to time I have wondered about these people, their origins, and how contemporary society has affected their lives. Eventually curiosity got the better of me. Earlier this year I took a trip to Guizhou to meet these tribal hunters in their home village.
An Ancient People
Congjiang county in Qiandongnan Miao and Dong autonomous prefecture, Guizhou province is a six-hour, 255-kilometer drive from China's famous Guilin scenic zone. The 9.6km journey to Basha village down the X883 County Road takes another 20 minutes.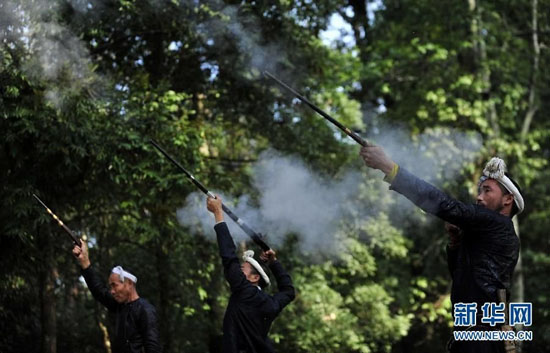 Basha is the only place in China exempt from the country's strict prohibition on firearm possession.
Basha means "lush" in the Miao language. Located on the lower slopes of Moon Hill, the village indeed abounds in bamboo groves and verdant forests. Residents work the terraced fields below. The village consists of five Miao communities that add up to a total population of 2,000. The distinctive topknots that the men of Basha wear, their firelocks, and the ancient trees that surround their home are regarded as the "three treasures" of Basha village. As with other ethnic villages, improved communications have enabled greater accessibility, making it something of a tourist attraction.
We recommend: