Huangshan Mountain
Winter travel is great for visitors who want to experience the wonders of winter in Anhui province and don't mind the cold weather.
On December 19, the 2013-2014 Anhui Winter Tour Promotion Meeting was held in the Intangible Cultural Heritage Park located in Changfeng county. Zhang Xueping, Deputy Director of Anhui Provincial Tourism Administration, as well as the leaders of municipal & county tourism administrations, travelling agencies and media reporters were present at the meeting.
Anhui province has launched a series of winter tour promotion activities to attract more and more tourists to come to the province. Here, we are delighted to recommend a range of winter holiday destinations and tourist activities to satisfy the desires of coming tourists.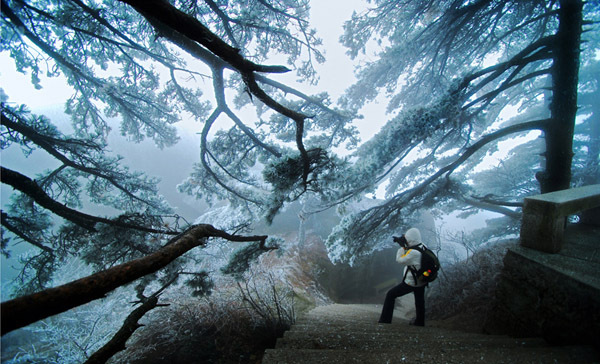 Tianzhu Mountain
In Southern Anhui
Winter is the best time to see some foggy mountain snowscapes. The snowy mountainous sceneries of Huangshan Mountain,Jiuhua Mountain and Tianzhu Mountain in Anhui are among the best.
Huangshan Mountain is a popular destination all the year round. Gnarled pines, oddly-jagged rocks, strange-shaped stones, sea of clouds, hot springs and snowscape are the five highlights of the mountain. Huangshan Mountain changes into a picture that sliver peaks are embraced by frost and ice in winter. Travelers are very happy when seeing snowy mountainous sceneries and rare rime in the scenic area.
We recommend: