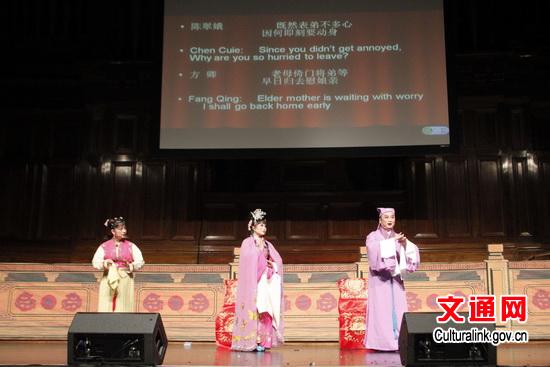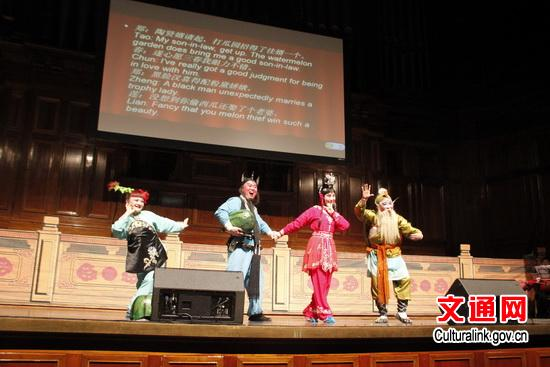 Artists perform at the Chinese Opera festival in Melbourne, Australia on March 16, 2014.[culturelink.gov.cn]
The Chinese Opera festival of Australia was held at the town hall auditorium in Melbourne, Australia on March 16, 2014. 32 artists from the Qian Theater performed operas to the audience, such as "Pearl Tower" and "Excessive Sweet Lady," and also included the instrumental performances "Nido Folk Song," a string duet, "Gostandon," "Plum Blossom" and the famous flute solo, "Moon Night," which all received warm applause from the audience. Huang Guobin, deputy consul general of the consulate-general of China, Gong Zheng, director of the Confucius Institute in the University of Melbourne, and over 1,000 people attended the festival.
Huang gave a speech during the opening ceremony and said, "The operas of Gui Zhou are regarded as a treasure of Chinese national culture and are listed upon China's intangible culture.
"Two years ago, the artists of the Qian operas were invited to perform at the Chinese Opera Festival in Melbourne, and their performances made an indelible impression on Australian audiences. This time the opera performers accepted the invitation again and brought Chinese national operas and musical programs to Australia, which has made the Chinese Opera Festival in Melbourne more rich and colorful," he added.
Moreover, he also made it a point to congratulate the Chinese Opera Festival in Melbourne for being so well-organized.
Six Chinese Opera Festivals have been regularly held in Melbourne since 2009. This year's festival, co-hosted by the Association of Chinese Opera and the Confucius Institute at the University of Melbourne received heavy support from the culture agency of Guizhou province and the Chinese consulate-general in Melbourne.
We Recommend: