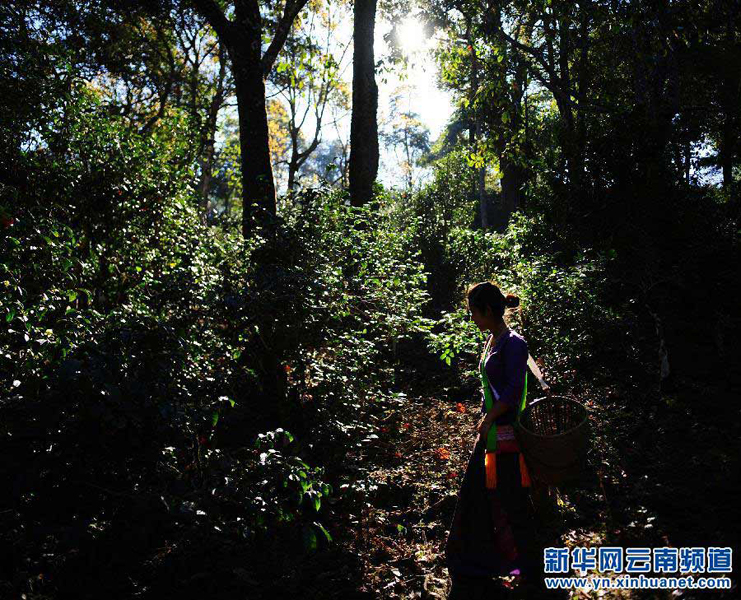 On January 10, a young Dai girl takes a walk in the ancient tea garden of the Jingmai-Mangjing region. The garden covers an area of more than 10,000 mu. (Xinhua/Qin Lang)
In the afternoon, the aromatic scent of tea emits from the wooden house of the Bulang ethnic people on the Jingmai Mountain, while an old Bulang man is heating up the tea by the fireside. The old man shakes the heated tea container and pours into boiled water skillfully, after which the scent instantly spreads. Such a scene can be found everywhere inside the villages on the Jingmai Mountain.
The Jingmai Mountain is renowned for its tea. What's more, life on the mountain is also closely related to tea. There are a large number of ancient tea tree gardens on the mountain. Even every house is surrounded by several tea trees. The local villagers drink tea and tea alcohol, and eat tea food. They also sing songs related to the tea while picking tea leaves on the mountain. In the heart of the people from the Jingmai Mountain, life is enjoyable as long as they have tea.
Pu'er City of Yunnan Province is renowned home and abroad as one of major production places of Pu'er tea. The Jingmai Mountain in the Lahu Autonomous County of the Lancang County, Pu'er City, is home to the most ancient and largest artificially cultivated tea gardens. The garden covers an area of 28,000 mu, among which more than100,000 mu of tea trees in the form of forests stay free from fertilizers and pesticides. The tea trees grow with other tree species in the primitive environment. According to historical record, the tea tree gardens have more than 1,800 years of history with the cared cultivation of the local Bulang ethnic people and the Dai ethnic people.
After being harvested and grinded, the tea will be made into solid forms of cake or brick to be sold to other places through transportation. Now the Pu'er tea, with its peculiar aroma and distinctive tea culture inherited through the history, has become even more popular and attractive to people outside its birthplace.
We recommend: