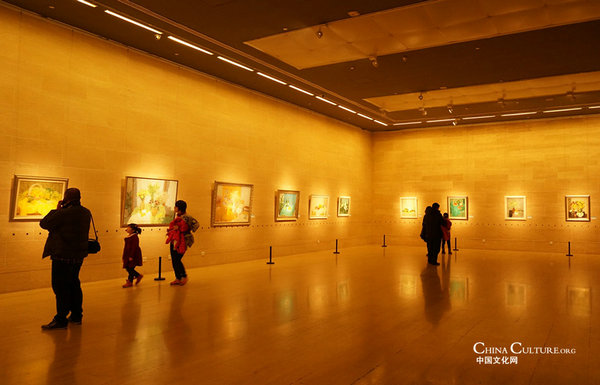 Visitors view the paintings at the Shen Xinggong Oil Painting Exhibition at the National Art Museum of China, Beijing, Feb. 23, 2014. Over 100 pieces of Shen Xinggong's oil paintings are on display at the exhibition. [Photo/ Chinaculture.org]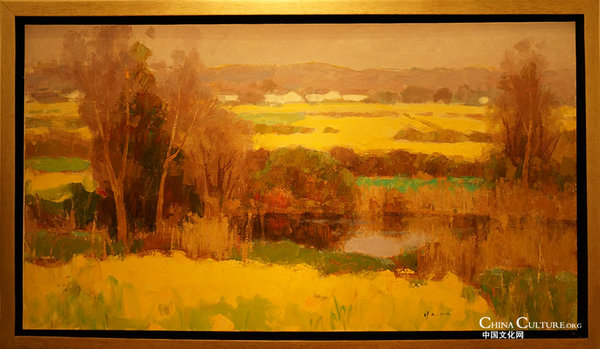 One of the paintings at the Shen Xinggong Oil Painting Exhibition at the National Art Museum of China, Beijing, Feb. 23, 2014.[Photo/ Chinaculture.org]
What happens when a painter filled with romance and poetry meets Jiangnan, a peaceful wonderland filled with happiness in Southern China? The Andante Cantabile — Shen Xinggong Oil Painting Exhibition may provide some answers.
This new exhibition opened at the National Art Museum of China, Beijing, on Feb. 20, 2014, and features over 100 pieces of Shen Xinggong's oil paintings which are mainly new works along with significant pieces that depict various historical periods.
Shen Xinggong is an influential oil painter and art educator in the world of contemporary Chinese art. Being poetic and image expressive, his oil paintings have always enjoyed a great reputation due to their strong features of Jiangnan culture and scholarship. Recently, Shen has reached further to refine and enrich his art language while always remaining in a passionate creative state.
On the basis of giving full play to the artistic expression of oil painting, the artist always tries to present the special features of the Jiangnan landscape — temperate, mild, elegant and bright, demonstrating the calm and profound characteristics of the location's scenery. Shen Xinggong's expression and creation of Chinese poetic culture through the application of colorful language in his works reveals an exploration of Chinese contemporary oil painting of local culture in great respect of language.
The exhibition runs until March 2. National Art Museum of China, 1 Wusi Dajie, East District, Beijing, China, 010-64001476.
we recommend: