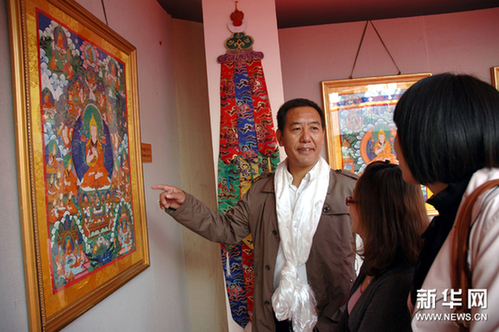 After years of apprenticeship and practice, Norbusitar gradually obtained a better understanding of the painting theories and skills of the Mensar School.
Handcrafted Charm
After centuries of development, several schools of Thangka painting evolved. Norbusitar is an inheritor of the Mensar School.
Founded by Tsangpa Choying Gyasto in the 17th century, the school is known for its characteristic rough lines, defined faces, strong colors, tall figures and fine art skills. The process of Thangka painting is unimaginably difficult. The basic procedures range from preparing the canvas, drawing lines, coloring and dyeing, to delineating with pigments, tracing designs and painting in gold, polishing colors and the intricate painting of Buddha's eyes – all by hand.
Choosing the right pigments is very important, as the abundance of pots found in Norbusitar's studio showed all too clearly. "The pigments directly influence the colors of the Thangka," Norbusitar explained. "All the pigments are made from natural minerals found in Tibet. They give the Thangka its bright colors. As the plateau is arid, the color remains as bright as if it were newly painted even after several hundreds of years. Modern chemical pigments can't achieve that."
In addition, tools like glue, charcoal, Tibetan brush pens and boards are handmade by Norbusitar himself and his students. The skills involved in doing so are not found in many other places. After a set of complicated procedures, a Mensar School Thangka will have a genuine "style," which is so beautiful that it cannot be described, only felt, Norbusitar said.
Important Mission
The remaining Thangka passed down from generation to generation are all classical; the current skills Norbusitar and his students use are largely the same as those used hundreds of years ago. "For a good painter, passing down as many skills as accurately as possible is an important mission."
In 2010, the Mensar School Thangka Art Development Center was selected as Tibet Autonomous Region's Intangible Cultural Heritage Project. The center aims to preserve the heritage of Tibetan art and promote the traditional painting skills and theories behind the Thangka. It has taught over 90 poor students for free. The fifth generation of the Mensar School also studies here.
Over the last several years, Norbusitar has attended many exhibitions, both at home and abroad, to showcase traditional Tibetan paintings and their values. The reception has been overwhelming and made him very proud. He hopes to continue to propagate the Mensar School techniques and make Tibetan art accessible to more people. His aim is to expand the development center and recruit more students.
We Recommend: