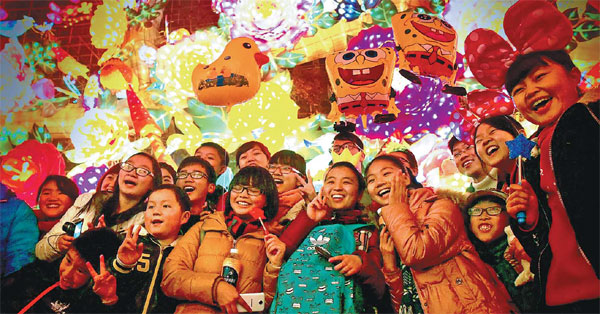 Visitors' ear-to-ear smiles match perfectly with the splendid colors and lights at the lantern festival. Wang Wenlan / China Daily
More than a dozen gardens spring to life with color and festivity at the Zigong International Dinosaur Lantern Festival. Wang Wenlan and Zou Hong capture the scene in Zigong, Sichuan province.
The Zigong International Dinosaur Lantern Festival is ongoing in Zigong, Southwest China's Sichuan province. This is the 20th anniversary of the festival, comprising 119 large and medium-size lantern installments in 14 gardens. The Zigong lantern festival has been held since the Qing Dynasty (1644-1911). The remote city is the originator of the Chinese lantern festivals and is called "Lantern Town in the South Kingdom". Lanterns get more and more elaborate each year and promote tourism in the city.
The three-month-long lantern festival is the joint effort of more than 300 companies and 50,000 working staff members. Each night it attracts thousands of visitors. Zou Hong / China Daily
We Recommend: