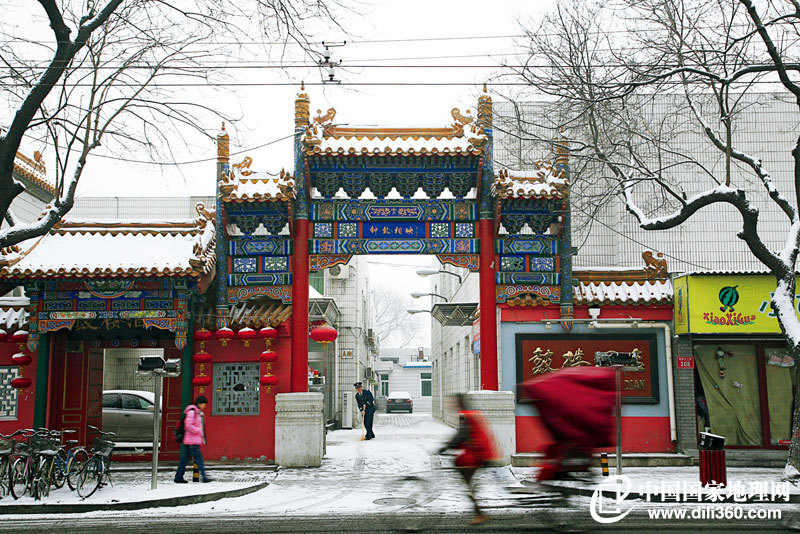 According to incomplete statistics, there are over 300 memorial archways in Beijing. Like this archway near the Drum Tower, many of the wooden archways have been reconstructed with cement and metal and remain in the modern city. Photo: Jiang Chenming [Photo from Chinese Heritage]
The fangs of aristocratic families would have their gates decorated like fayue and use them as a symbol of dignity and nobility. When residents did well on the imperial examination or did good deeds or if they didn't, the gate could be used for commendation in addition to serving as a bulletin board for government notices. With all these functions in place, the fang gate played an important role in the lives of everyone.
During the Song Dynasty, there was an increase in the floating population of cities along with a booming economy; fang boundaries almost disappeared as walls were pulled down in the end. The gates then seemed unnecessary without actual fangs and were torn down, only leaving the framework. This skeleton became a type of archway architecture which later enjoyed a long-standing reputation and is now known as a "memorial archway".
The memorial archway not only can be used to divide space, but also serves to recognize good deeds like biaolū and functions at the same time as a status symbol like fayue. Later during its development, it became symbolic archway architecture for Chinese and appeared wherever there were residents. In cities, the memorial archways divided up the different areas; in temples and mausoleums, serving as a link to heaven; and before the mansions, it symbolized the status of its owner; and at the entrance of a memorial temple, it was used to commend people of noble character.
Nowadays, memorial archways of all sizes can be found in overseas Chinese communities. They help to divide up living spaces and at the same time serve as a souvenir of the Chinese motherland.
We recommend: