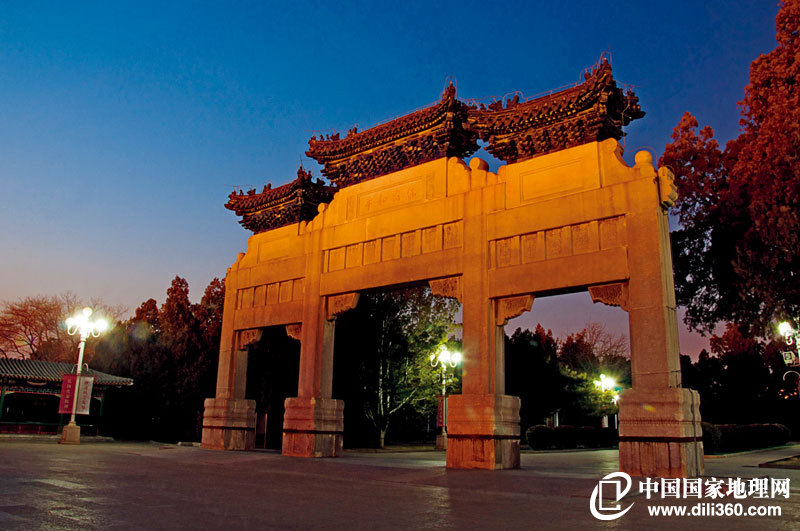 After Germany's defeat in World War I, Klemens von Ketteler Archway was torn down and the remaining pieces were recombined as Axiom Victory memorial archway at the now Zhongshan Park. In 1952, the memorial archway was again renamed as Defending Peace Archway. Photo: Xu Jian [Photo from Chinese Heritage]
Fayue, on the other hand, originally meant two wooden pillars before the gate, the left one named "Fa" and the right one named "Yue". With the tradition of hereditary succession, Chinese people used to record all the achievements of their ancestors on the pillars in the event they would fall into oblivion. As a result, fayue was later regarded as a symbol of a family's hereditary status. During the Jin Dynasty, fayue flaunting became so prevalent the emperor had to impose limits: "Fayue at the front gate should not be more than 4 meters tall. The distance between two pillars should not be more than 3 meters. The top of pillars should be decorated with wajue (a square bar) which is painted black and thus called 'wutou' (black top)." Similar records also appear in Ts'e-fu yuan-kui from the Song Dynasty.
Before the Tang Dynasty, wutoumen (gate with black top pillars) could only be built in the houses of powerful officials who held a sixth rank or above. Certain delicate wutoumens would have the same decorations as a marble pillar and finely carved wajue to endow the house with an air of nobility and dignity. With these distinctions, fayue could be classified into different ranks and serve as a symbol of status and honor.
We recommend: