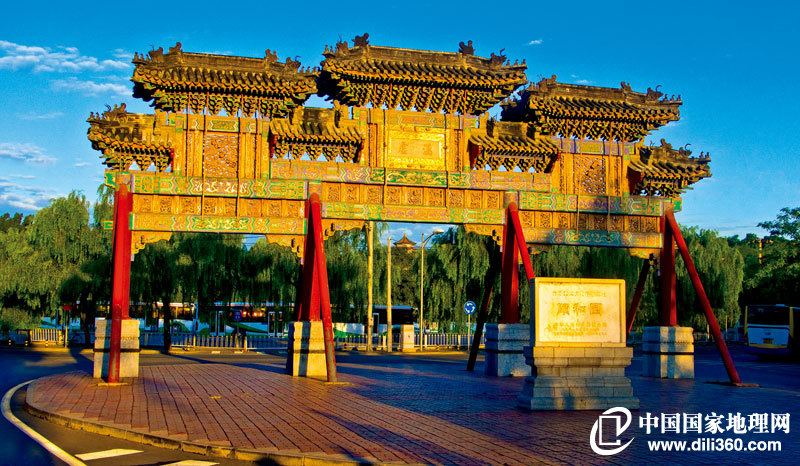 At the east gate of Summer Palace, there is a wooden memorial archway with four pillars and three openings, which separate the beautiful garden from the roaring metropolis. According to records, the destroyed Chengtian memorial archway, which was the predecessor of Tian'anmen, was a similar structured archway, but ranked higher with six pillars and five openings (the more pillars and openings, the higher the rank). Photo: Lu Gang [Photo from Chinese Heritage]
In 1644, when Li Zicheng, the leader of a rebel army that dethroned Ming emperor Chongzhen, fled Beijing after a number of defeats by the Manchu army, he set fire to the Forbidden City along with the grand memorial archway known as Chengtianmen.
According to Han Changkai, who has dedicated himself to the study of memorial archways for 20 years, Chengtianmen, first built during the Ming Dynasty in 1417, was made of wood and was an emblem for "receiving the heavenly mandate and launching worldly fortune". When compared with the huge stone archway at the gate of the Ming Tombs, Chengtianmen can be regarded as something built with the highest standards as it had six pillars, five gates and colored drawings. In 1651, Emperor Shunzhi from the Qin Dynasty ordered Chengtianmen to be rebuilt at the original site and renamed it Tiananmen, with the meaning of "stability and prosperity". Since then, Tiananmen has taken the place of Chengtianmen as a symbol of the nation, which has witnessed every glorious moment in Chinese history.
Since Chengtianmen was named as a "gate", why is it considered to be a memorial archway? And why is it located in front of Forbidden City? Also, how does it convey the meaning of "Appointment by Heaven"? These questions can be answered through the explanations behind the origin of memorial archways.
We recommend: