Seeing China Differently
Updated: 2015-02-17 13:22
(Beijing review)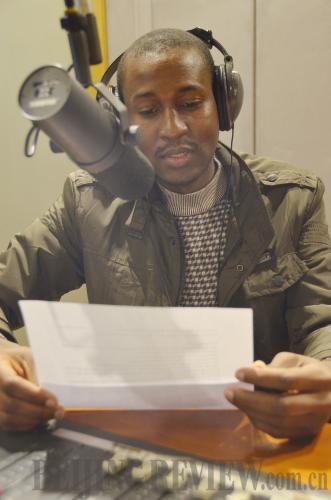 Saminu Alhassan Usman [Photo/ Beijing review]
In the eyes of Nigerian movie-goer Saminu Alhassan Usman, Chinese movies are all about kungfu, with simple plots and dazzling stunts and action sequences. However, he was curious about the life of the average person in the world's most populous country, especially since only topics relating to politics and the economy in China get exposure in the local media.
Before coming to Beijing, around 10,000 km from his home, Usman, 35, worked for Freedom Radio as a political and social reporter in Jigawa State in northern Nigeria. Under an exchange agreement between the two countries, Usman has worked at the Hausa department of China Radio International (CRI) since September 2012.
Besides Nigerian official language English, Usman also speaks Hausa when he is at home in Kano, the country's second largest city and the business hub of northern Nigeria. Currently, some 50 million people speak Hausa, one of the most widely spoken languages in Western Africa, central part of Africa, and northwestern Sudan.
Debut of the voice actor
For Usman, his job in Beijing is similar to his previous one back home: He conducts interviews, records audio and writes reports. He also proofreads stories in Hausa for his Chinese colleagues.
"Doing some voice acting for Beijing Love Story, the first Chinese domestic TV drama in Hausa, was the most interesting and challenging part of my job," Usman told Beijing Review.
In 2011, the first Swahili-dubbed Chinese domestic TV series A Beautiful Daughter-in-Law Era was aired in Tanzania starting November 23, attracting a large audience and positive reviews. As a result, the State Administration of Radio, Film and Television – now known as the State General Administration of Press, Publication, Radio, Film and Television – launched a Chinese TV drama export project targeting African audiences at the end of 2012. CRI, which broadcasts in 61 languages worldwide, was tasked with producing the translations.
The 39-episode Beijing Love Story, shot in 2010 and aired across China in 2012, depicts young people struggling to balance their work and life, friends and lovers in the big city. The preparation for the Hausa version started at the beginning of 2013.
CRI held auditions for leading voice actors on March 20-21 in Abuja, attracting 20 local professionals across Nigeria. Finally, six were chosen to come to Beijing, joining the Hausa department staff for the work in mid-April. This is the first time that a Sino-Nigerian cultural exchange has invited Hausa-speaking actors and actresses to China to dub Chinese TV series.
"A romantic plot and ordinary people's life stories were very different from what we had seen in the Chinese kungfu movies we were used to. My fellow countrymen would love it," Usman commented.
The most challenging part, according to Usman, was making the translated scripts match up with the video. The dialogues in Chinese were shorter and faster than in Hausa; sometimes with a lot of idioms or puns. "I had to figure out the original meanings and then cut down the words used," he explained.
Fortunately, his hard work paid off. Usman's voice acting for Andy, a handsome cynicist from a rich family with a fragile heart, received high praise from his colleagues. His work went on to get him picked by the director for a role voicing a support actor in A Beautiful Daughter-in-Law Era, the second Chinese TV drama to be translated into Hausa.
"A shift from martial arts world to social life on ground allows me to see China from a different angle," Usman noted. "I'm looking forward to more Chinese TV series, especially comedy that can reach African audiences."