China to invest 360 million yuan on cultural centers abroad
Updated: 2015-02-28 10:40
(Chinaculture.org)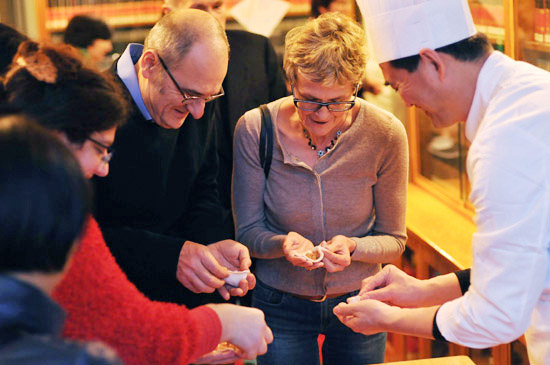 French residents learned how to make dumplings at the China Cultural Center in Paris on Feb 14. [Photo/Pierre Demont]
According to the Ministry of Culture, the Chinese government invested about 1.33 billion yuan ($214 million) by the end of 2014 to build overseas China Cultural Centers and is expected to add another 360 million yuan for developing and running the institutes in 2015. That's up 181 percent compared to last year.
China set up its first culture centers in Mauritius and the Republic of Benin in 1988. Since 2002, centers were opened in Cairo, Paris, Malta, Berlin and Tokyo. By the end of 2014, 20 centers had been established, covering a building area of 43,000 square meters. Each center is about 2,000 to 5,000 square meters and is equipped with a multifunction hall, exhibition hall, library and classrooms.
Centers in Brussels and Singapore are planned to open in 2015, and the construction of those in Nepal, Pakistan and Tanzania are underway. In the first half of 2015, China will also investigate and select sites for new centers in Sweden, Romania, Hungary and other countries. The central government is looking to have at least 50 such centers by 2020.
According to Xie Jinying, director of the Bureau for External Cultural Relations of the Ministry of Culture, China Cultural Centers abroad have three main functions: to display and promote Chinese culture through cultural events such as performances, exhibitions and art festivals; to provide China-related information or data to introduce Chinese culture and history and offer facts on the country's modern social life and to organize training programs on music, dance, language, painting, cooking and martial arts.
The institute also works as a platform of cultural exchange by inviting Chinese artists, ideologists and scholars to share their opinions with local people.