China Cultural Center inaugurated in Laos
Updated: 2014-11-04 11:14
(Chinaculture.org)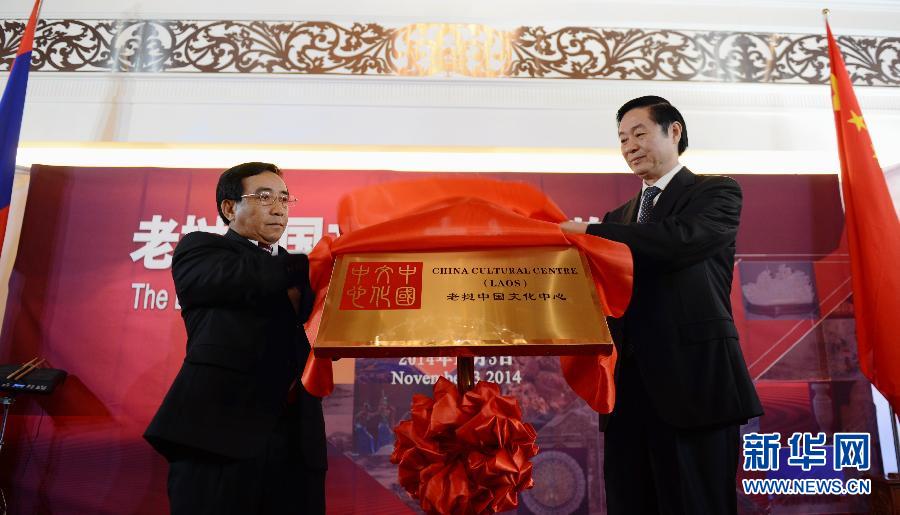 Liu Qibao, head of the CPC Central Committee's Publicity Department and Phankham Viphavanha, deputy prime minister of Laos, inaugurate the cultural center.[Photo/xinhua]
The China Cultural Center was inaugurated in Laos' capital, Vientiane, on Nov 3. Liu Qibao, head of the CPC Central Committee's Publicity Department and Phankham Viphavanha, deputy prime minister of Laos, attended the launch ceremony.
Liu Yuzhu, assistant minister of China's Ministry of Culture, said at the ceremony that as a great achievement of China-Laos cultural exchanges, the inauguration of the China Cultural Center in Laos turned a new page for the friendly cooperation between the two sides and represented a milestone in the developmental path of Sino-Lao cultural cooperation. It will make great contributions to promoting the mutual understanding of the two peoples and deepening China-Laos friendship.
According to Savankhone Razmountry, deputy minister of the Laos' Information, Culture and Tourism Ministry, the China Cultural Center in Laos is of great significance and will provide a platform for cultural exchanges between the two sides.
The first Chinese Culture Centers were established in Mauritius and Benin in 1988, and since then the culture centers have sprung up in many places of the world. The China Cultural Center in Laos is the sixth in Asia and the 18th in the world. It is also the third China Cultural Center set up this year, following the establishment of the China Cultural Center in Denmark in June and that in Sri Lanka in September. Various activities will be held in the center, including cultural performances, exhibitions, seminars and forums. The center will also provide different services, such as information consultation and Chinese language and culture training.