Malta seminar commemorates 104th International Women's Day
Updated: 2015-03-12 10:01
(Chinaculture.org)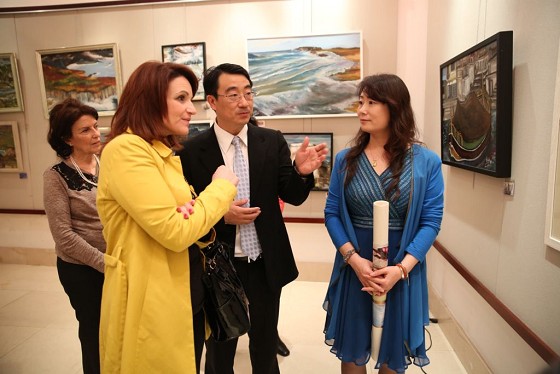 Michelle Muscat, wife of the Maltese premier, visited an exhibition at the center with Wang Yanjun, director of the China Cultural Center in Malta. [Photo/China Cultural Center]
A seminar on promoting women's rights marked the 104th International Women's Day at the China Cultural Center in Malta on 4 March, 2015.
Guests included the Chinese ambassador's wife Wang Jiangqun, the Maltese Premier's wife Michelle Muscat, Minister for Social Dialogue, Consumer Affairs and Civil Liberties, Helena Dalli, President of the National Council of Women of Malta, Mary Gaerty and President of the Association of International Women in Malta, Irene Bulinson. Wives of eight ambassadors to Malta, together with renowned women from all circles, were guests of honor.
Wang expressed her honor to celebrate with friends and sisters in Malta and stressed further promotion of gender equality and female education.
In addition, she pointed out that the Chinese government has put more effort into finding strategies and solutions to female issues such as domestic violence and healthcare in rural areas, with more than 100 billion yuan funded to protect women's rights. She suggested her fellow female friends show more self-respect, self-confidence and lead a self-dependent life.