For Beijing, the Olympics and Paralympics have brought the clearest and bluest skies to the capital in the last 10 years, reduced traffic congestion by half, promoted the concept of queuing at bus stops and subway stations, improved infrastructure with new sidewalks and resurfaced streets, promoted public politeness, increased green spaces in the city and last but not least increased access for persons with disabilities in public spaces around the city.
It does not get any better for disabled persons living in Beijing than September 2008, at least near the Olympic park where the subway has elevator access for wheelchairs, where wheelchair ramps have been recently built for some local businesses, and where banners marking the Paralympics give a sense that disabled people will be out and about.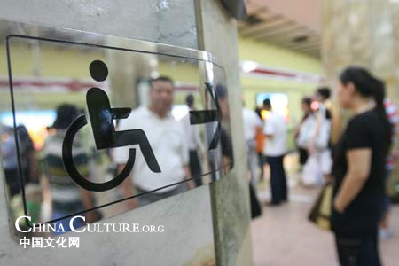 Increased disability access is evident in the many public buses that are equipped with automated wheelchair ramps and sound systems that indicate the number of the bus for blind persons. Also, one might spot one of the 30 new wheelchair accessible taxis on the streets.
In general and in short, Beijing is among the more physically accessible cities in Asia. But there are still problems. For example, some taxi drivers are not willing to pick up wheelchair users. The introduction of the 30 accessible taxis has actually added to the problem in a way, because drivers of regular taxis use them as an excuse for not picking up wheelchair users, saying that the potential passenger should take a special taxi instead.
Drivers of buses with wheelchair lifts claim to not know how to operate the lifts, and the more honest drivers saying they do not want to make the effort. In some public restrooms, the handicapped stalls end up as broom closets or are simply locked. Around the city, signage will sometimes indicate that a space is handicapped accessible, when in fact there is no access.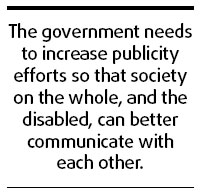 Physical access problems aside, one would expect that disabled persons would be going about their daily lives in Beijing just like everyone else. But where are they? It is rare to see a person with an evident physical disability on the streets of Beijing, yet government statistics say that 6 percent of the country's population is either mentally or physically disabled and that Beijing has close to 1 million disabled residents.
Although there are many three-wheeled scooters on the streets with stickers indicating that the operator is disabled, few of these persons seem to have any disability and likely operate the scooter based on a disabled family member's special permit. The answer to why we do not see many disabled people "going about daily life" is that despite strides in physical access, societal barriers keep many disabled persons from finding work, attending school, or even getting out of their home.
The China Disabled Persons Federation, which has worked tirelessly to improve the quality of life for persons with disabilities, notes that some companies deliberately break employment laws that require them to hire a percentage of disabled persons. These companies would rather pay fines than hire workers with disabilities.