People may be forgiven for switching on their TV sets today to catch something on the Paralympic Games. Many are known to have done that the day after the Olympics ended to catch Olympic action.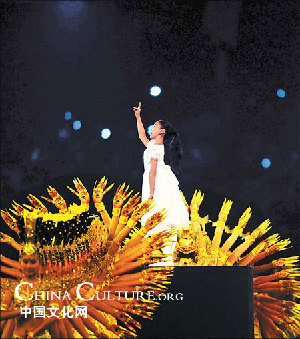 A girl "sings" in sign language at the Paralympic Games closing ceremony at the Bird's Nest in Beijing last night.
The disappointment and the sorrow of bidding farewell to two of China's greatest events in recent times will linger for days, if not months. But like every good thing in life they had to come to an end.
The Paralympic Games torch atop the Bird's Nest flickered till the last before vanishing into the sad Beijing night sky on Wednesday, bringing the curtains down on a sports gala that began with the Olympics on Aug 8.
It seemed the flame could hear the heartbeats of not only the 90,000 people in the stadium, but also billions across the world. It appeared to answer the little girl, who "sang" using her hands (in sign language): "The flame do you see? You are in my heart. The flame, do you hear? I'm singing to you with my heart."
But the end came after what many said was a befitting closing ceremony program for the Paralympics. What better way to bid farewell to friends from across the world than to evoke the image of China's mother river? The performers, dressed in yellow, created a flow that could only be matched by the surging waters of the Yellow River.
The sounds of bells opened the first part, Red Leaves of Fragrant Hill, followed by A Letter to the Future, which saw small yellow flowers blooming to the slow, rhythmic flow of music.
The program was divided into four parts, during which athletes and officials were showered with small red leaves and yellow petals; the red leaves conveying Beijing's love and respect for the athletes.
More than 4,000 athletes from 147 countries and regions competed in 20 sports for the 472 gold medals, shattering 279 world and 339 Paralympic records.
China topped the medal tally with 89 golds, 70 silvers and 52 bronzes - a total of 211 medals. It was its best show at a Paralympics.