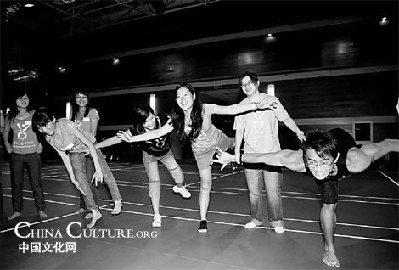 Participants of the Developing Paralympic Spirit Youth Forum attend the Communication Through Creativity Dance Workshop.
An innovative workshop hosted by the Developing Paralympic Spirit Youth Forum helped volunteers understand the obstacles of communicating without spoken language.
The workshop, held in Beijing's National Paralympic Training Center, required participants to communicate using only gestures and "number words", which of course don't express the full range of human emotion.
Wang Yanning, one participant, pantomimed holding a wok and turning food over with a spoon. "One two three," she said to Liu Wei, another participant, who looked puzzled and replied, "Four five six?"
"Seven eight!" Wang gestured as if pouring food into an imaginary plate.
Her partner sniffed and frowned. "Nine ten," he muttered.
While it was not an easy game to play, Wang found that the activity helped her to realize what it felt like when her message was misunderstood and she could only say some meaningless numbers, while Liu, who has had both arms amputated, tried to continue the exchange with body language.
"It is more than an interesting role playing," said Wang, an undergraduate from Beijing University of Agriculture.
Her feelings were echoed by a dozen other participants in the workshop.
"The workshop is inspired by preparations for the Beijing Olympics, in which the government encourages people to learn 100 sentences of a foreign language," said Natasha Betteridge, the program's creative director.
Participants were also asked to develop a play to be performed using just 100 words. The workshop directors said that the exercise was intended to expand people's knowledge and teamwork skills through creativity. More importantly, it gave people from different backgrounds an insight into cultural similarities and differences.
The week-long forum has a highlight of the 2008 Young Advocates Program (YAP) in China, a British Council initiative endorsed by the IOC and in cooperation with the Chinese Disabled Persons' Federation. The program has so far offered more than 15 sessions of training and skills development modules to 120 young people, disabled and able-bodied alike, in Beijing, Shanghai, Hong Kong and other major cities.
The forum was designed to provide 200 young people, with and without a disability, with intensive skill trainings delivered by leading British educators.