The design of the Cultural Festival emblem shows a human being and a lantern dancing joyfully. Lantern is used at every traditional Chinese festival. It symbolizes reunion and other happy occasions, and assembles the soul of the traditional Chinese culture.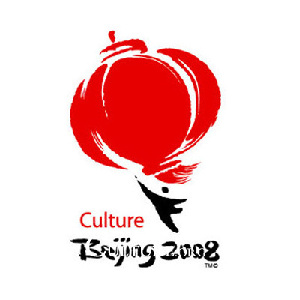 The Beijing Olympic Cultural Festival is also one of the predominant cultural celebrations of mankind. The whole country is rejoiced at the occasion, while Beijing is decorated with lanterns and streamers to welcome guests from elsewhere.
Chinese unique artistic form -- calligraphic art is adopted in the beaming design of the secondary mark, which sets off against the Olympic Emblem "Chinese Seal, Dancing Beijing."