Former British wheelchair basketball player Ade Adepitan will replace David Beckham as the star of the eight-minute handover show at the closing ceremony of the Beijing Paralympic Games tonight.
The retired Paralympian will direct an iconic London double-decker, into the National Stadium alongside Gareth Picken, a 9-year-old disabled gymnast and, hopefully, a future British Paralympian.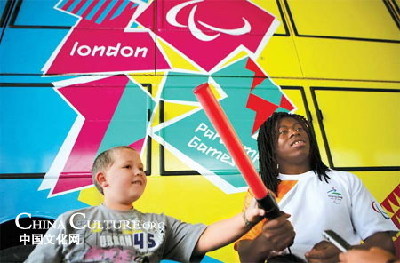 Former British wheelchair basketball player Ade Adepitan and 9-year-old gymnast Gareth Picken, pose in front of the bus Tuesday in Beijing.
Light sabers, which are normally seen at airports to direct planes, will be the tool to guide the redressed bus.
Making its debut in Beijing about three weeks ago at the Olympic Games' closing, the double-decker bus had presented the world a microcosm of London's culture.
Tonight, it is set to present more about the city, after some changes were made to feature the Paralympics.
Ade, who grew up in East London, has competed in two Paralympics and won a bronze at Athens. For him, attending the closing show in Beijing will be another big moment of the life.
"It's going to be an amazing moment being in front of billions of people," Ade told China Daily at a secret rehearsal site in a northern suburb of Beijing yesterday.
The double-decker has also been repainted from its traditional red to bright yellow and blue, as the bright colors will better implement London's determination to present Olympics and Paralympics for young people in 2012.
"I think one thing the Olympics and the Paralympics are gonna do in London is that it will give so many more opportunities for the next generation. It's gonna inspire them to wanting to do better," Ade said.
The 35-year-old contracted polio when he was a baby. At the age of 13, he started to play basketball, which he initially thought as impossible for wheelchair users.
"When a therapist asked me if I wanted to play basketball, I said to him: Are you crazy?" Ade said, adding that his therapist then took him watch the Great Britain team play.
"I was so excited when I saw it, and I wanted to play the sport straight away," he said.
About 10 years later, Ade became a professional basketball player for Spanish club Real Zaragoza and played in the league there for two years from 1996 to 1998.
He then made the British national squad for Sydney in 2000 and Athens in 2004.
The retired Paralympian is also working as a BBC commentator on wheelchair basketball.
"Paralympic sports had a huge effect on my life. Otherwise I wouldn't have the chance to travel all over the world and do what I am doing here now," Ade said.
By Zhang Haizhou