Longfusi Snack Street
Here you can enjoy many delicacies while strolling leisurely. All snacks of China gather here. Snacks of authentic Beijing style come from no others but Baikui Laohao where offers authentic soymilk, fried dough, Luzhu and diversified barbecues. It's a very typical Muslim restaurant getting more blossoming when the night curtain falls. The 100m-long snack stall form a hot scene. Stall-keepers hawk one after anther. Just buy some sausage or fried squid costing from 2 to 5 Yuan.
Wangfujing Snack Street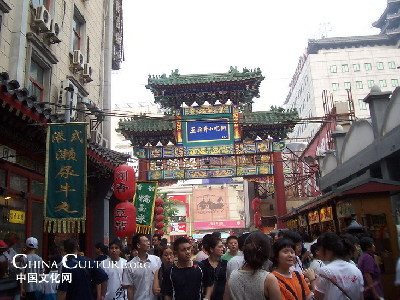 As the curtain of night falls, diners gather in Wangfujing Snack Street, among whom are a larger number of foreigners. Prices are not too low of course. Dazzling snacks from all corners of the land gather at here. If you wanna have a seat to enjoy your food more comfortably, you might go to Sun Plaza Restaurant at 5th Floor as well.
Gui Jie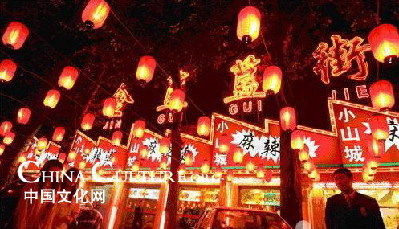 Don't be frightened by this name. Actually, the name of this street originates from that it is a round-the-clock food street. The later at night, the busier here. If you are a night owl too, just come here. Take a seat and eat something while chatting to spend the long night as a strange visitor at a strange land. Stores here are not so large but suitable for several friends drinking together and chatting joyously. Though with dated furnishing, they always have several dishes of everlasting aftertaste. Spicy Crab and Poached Fish in Pungent Sauce are eternally famous dishes yet. Inside and outside of the restaurants flow courteous greetings of waiters and sweet smell of delicacies.