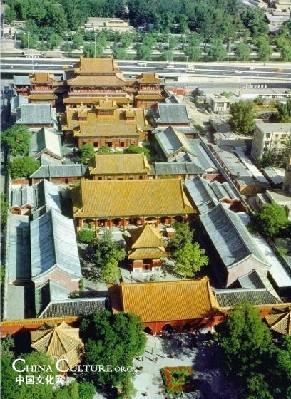 Situated on the east side of Yonghegong Street in the northeastern corner of the city, the Yonghe Lamasery is the largest and best-known lamasery in Beijing. The principal components are three exquisite memorial archways and five major halls, all of which stand on a north-south axis. The total area of the compound calculated from the southernmost memorial archway to the lamasery's northernmost point is 66,400 square meters.
The Yonghe Lamasery was originally built by order of Emperor Kangxi in 1694 to serve as a residence for his son and successor to the throne - Yinzhen. The new residence was given the name the Mansion of the Beile Yin. When his title was later officially raised to that of prince, the name of the residence was changed to "Residence of Prince Yong." Yinzhen lived here till his ascension to the throne in 1723.
When Yinzhen became Emperor Yongzheng after his father's death, a section of the residential grounds was maintained as a temporary palace to be used by the emperor for short visits, while the other half was turned into a place for the recitation of scriptures. Later, the palace section was razed by fire and in 1725, while that section of the compound occupied by the Lamas was given the name Yonghe (Harmony and Peace) Lamasery.
Besides the splendid main halls in it, the Yonghe Lamasery has a number of auxiliary buildings lining the courtyards on the east and west, many of which display exotic Lamaist sculptures and paintings. The buildings set along the central axis rise progressively from south to north, and a visitor entering from the southernmost gate looking north will see a series of roof-ridges rising impressively one above the next.
The lamaseries house a treasury of Buddhist art. To mention a few of the most interesting items: examples of the calligraphy of Qing emperors written on scrolls and inscribed on stelae; bronze lions and incense burners; sculptured images of gods, demons and Buddhas; and Tibetan-style murals.