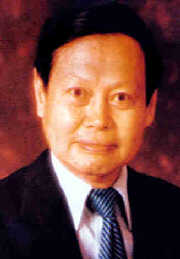 Yang Zhenning (Chen-Ning Yang) is a Chinese-American physicist ,who has worked on statistical mechanics and symmetry principles. He received the Nobel Prize in Physics in 1957 at the age of 35, with Li Zhengdao (Tsung-Dao Lee), to become the first two Chinese Nobel-Prize winners.
Yang is also well known for his collaboration with Robert Mills in developing a gauge theory of a new class. Such "Yang-Mills theories" are now a fundamental part of the Standard Model of particle physics. 
 


 Yang Zhenning's Life
Yang Zhenning was born on September 22, 1922, in Hefei of East China'sAnhui Province. Yang was brought up in a peaceful and academically inclined atmosphere of the campus ofTsinghua UniversityinBeijing, where his father was a Professor of Mathematics.
When Yang was very young, he demonstrated a talent for mathematics. However, his father didn't give him any special training in mathematics, instead, he employed a history teacher for Yang. From this teacher, Yang gained much knowledge of Chinese history. As a middle school student, Yang could recite all the texts ofMencius, a famous Confucian scholar who was second only toConfuciushimself.
In 1937, when the Anti-Japanese War began (known as WWII in the West), Yang and his family went back to their hometown of Hefei. After the Japanese troops enteredNanjing, Yang and his family spent time in Hankow andHong Kong(both in East China), and Hanoi (today'sHainan Provincein South China), before finally arriving atKunmingof Southwest China'sYunnan Provincein March 1938, where Yang furthered his study.
In 1942, Yang Zhenning received his Bachelor of Science degree fromKunming's National Southwest Associated University. Two years later, he studied for his Master of Science degree with a full scholarship atTsinghua University.
Yang Zhenning attended the University of Chicago on aTsinghua UniversityFellowship in January 1946. There he studied for his Ph.D. with Edward Teller and after receiving it in 1948, remained for a year as an assistant to Enrico Fermi, a famous physicist. In 1949 he moved to the Harvard-affiliated Radcliffe's Institute for Advanced Study and in 1965 to New York's Stony Brook University, where he worked until 1999.
He has been elected a Fellow of the American Physical Society and the Academia Sinica, and was awarded an honorary doctorate by Princeton University in 1958.
In 1950, Yang Zhenning married Du Zhili, a former student of his, and had two sons and a daughter.
In 1999 Yang Zhenning returned to Tsinghua University following his retirement from Stony Brook University. His wife died in the winter of 2003. In 2005, at the age of 82, Yang Zhenning married a 28-year old woman, who is studying for a master degree at Guangdong University.