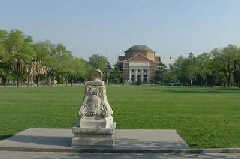 Tsinghua University, located in the northwestern suburbs of Beijing, was established in 1911 on the site of "Qing Hua Yuan" -- a former royal garden of the Qing Dynasty (1644-1911). Funded with part of the "Boxer Indemnity," it was at first a preparatory school called "Tsinghua Xuetang" for those students who were sent by the government to study in the United States.
On April 29, 1911, Tsinghua Xuetang began its first term, and from then on the last Sunday of April was set as the school's anniversary. The name was changed to "Tsinghua School" after the 1911 Revolution.
In 1925, a university section was established, offering a four-year program to students. In 1928, its name was changed to the National Tsinghua University,and in the autumn of 1929 a graduate school was set up.
Following the outbreak of the Anti-Japanese War in 1937, Tsinghua University, Peking University and Nankai University merged to form the Southwest Associated University in Kunming City. After the war, Tsinghua University moved back to the original campus in Beijing and resumed operation at its present location.
Three years after the founding of the People's Republic of China, a nationwide restructuring of institutes of higher education was initiated, and in 1952 Tsinghua University became a multidisciplinary polytechnic university with its emphasis on training engineers. Since 1978, during the period of reform and opening up, Tsinghua University has gradually restored such disciplines as science, economic management, humanities and law. In 1999, Tsinghua opened the School of Arts and Design by merging with the Central Academy of Arts and Design. Tsinghua has become a leading comprehensive university with engineering as its focus, while concurrently offering degrees in science, liberal arts, management and law.
At the end of 2000, Tsinghua University had eight colleges and 43 departments, 44 research institutes, nine engineering research centers, and 163 laboratories, including 15 national key laboratories. The university offers 37 bachelor's degree programs, 107 master's degree programs and 64 PhD programs.
University History
1911: Established "Tsinghua Xue Tang", later changed to "Tsinghua School" (preparatory school for students to study in the USA)
1925: Established college division
1928: Set up "National Tsinghua University", with 16 departments in four schools£º Liberal Arts, Law, Sciences, and Engineering
1937: Moved to Changsha, merging with Peking University and Nankai University to form "Changsha Temporary University"
1938: Moved to Kunming, name changed to "Southwest Associated University"
1946: Returned to original campus -- "Qing Hua Yuan" in Beijing, with 26 departments in five schools: Liberal Arts, Law, Sciences, Engineering,and Agriculture and 26 departments
1952: Became polytechnic university after nationwide restructuring
1978: Nationwide College Entrance Examination resumed
1984: Established the first Graduate School in China
-- School of Economic Management was formed out of the existing department of management engineering
-- School of Sciences resumed on the basis of science departments
1985: Opend First School of Continuing Education in China
1988: Established the School of Architecture on the basis of the Department of Architecture
1993: Established the School of Humanities and Social Sciences on the basis of former departments and research institutes of humanities and social sciences
1994: Established the School of Information Science and Technology
1996: Established the School of Mechanical Engineering
1999: School of Law resumed operation
-- Established the School of Applied Science and Technology
-- Established the School of Arts and Design by merging with the Central Academy of Arts and Design
2000: Established the School of Civil Engineering on the basis of former departments and research institutes of Civil Engineering and Hydraulic and Hydropower Engineering
-- Set up School of Public Policy and Management on the basis of department of Public Policy and Management