Chinese Alligator Nature Reserve of Anhui Province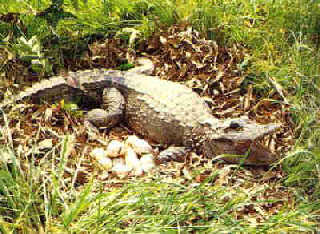 Located in the boundaries of Guangde, Xuanzhou, Nanling, Langxi and Jingxian counties of Xuanzhou City, Anhui Province, Chinese Alligator Nature Reserve covers an area of 44,300 hectares. Its main protection targets are Chinese alligator, special Chinese reptile and its habitat.
The Reserve lies in the temperate zone with four distinct seasons and plenty of rain. The Reserve, traversed by Shuiyang River and Qingyi River and surrounded by many ponds, ditches, gullies and dykes, is the ideal habitat for Chinese alligators to live and breed. The Chinese alligator and crocodile in the Mississippi are the only two extant crocodilian species living in freshwater in the world, and they are small in number. Chinese alligators are listed as the first-grade state protected animals. The Xuanzhou City Government set up a breeding and research center for Chinese alligators, which covers an area of 100 hectares. With over ten years of efforts, the artificial propagation of Chinese alligators has been achieved. More than 4,000 Chinese alligators are living freely in the breeding center, and thus the ancient species gets well preserved.

 Tian'ezhou White-Flag Dolphin Nature Reserve of Hubei Province     
Located in the boundaries of Shisheng City of Hubei Province, the Tian'ezhou White-Flag Dolphin Nature Reserve covers an area of 2,000 hectares. Established in 1990 with the approval of the Hubei Provincial Government, the Reserve was promoted to a national reserve in 1992. The main protection targets are white-flag dolphins and their habitat. The white-flag dolphin, a rare mammal on the verge of extinction in the Yangtze River, is a first-grade state protected animal.
Tian'ezhou lies in the lower reaches of the Yangtze River with a length of 20.9 kilometers and its surface covers an area of 18-20 square kilometers. The flood season in Tian'ezhou is almost the same as that of the Yangtze River. Tian'ezhu remains unpolluted and the advantageous hydrologic conditions, making the Reserve a proper habitat for white-flag dolphin. The Reserve is an important site for the protection and convalescence of white-flag dolphins. At present, relocation for protection of white  flag dolphins is being carried out.