Zhangjiajie Nature Reserve of Hunan Province     
Located in the east of Dayong City,Hunan Province, Zhangjiajie Nature Reserve covers a total area of 13,300 hectares. The Reserve is the first national forest park, some 95% of which is covered by forests. Belonging to Wuling Mountain Range, the Reserve is characterized by 2,000 peaks in fancy shapes being eroded or weathered for so many years. It is a famous scenic spot. Due to its subtropical monsoon damp climate, primitive forests and secondary forests grow here where many rare wildlife are preserved. In the Reserve, there are more than 500 species of ligneous plants, among them, precious and endemic plants including ginkgo, Chinese tulip, dove tree and Katsura tree, etc. In addition, there are 27 species of beasts, 41 species of birds. Musk deer, civet, blue sheep, giant salamander and other animals are listed under the state protection. Zhangjiajie Nature Reserve is included in World Nature Heritage.
 Lushan Nature Reserve of Jiangxi Province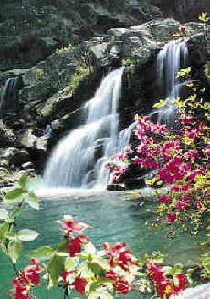 Located in the south of Jiujiang City, north of Jiangxi Province, Lushan Nature Reserve covers a total area of 30,466 hectares. The highest peak of Lushan Mountain is 1,474 meters above sea level. Its main protection targets are forest ecosystem, cultural heritages, glacier features and natural landscape. More than 40 species of plants found here are either rare or local special species including Katsura tree, Manglietia fordiana, Chinese tulip and eucommia. Animals under the state protection are leopard, giant salamander, civet, python, pangolin, Hydropotes inermis, muntjac, silver pheasant, white crane, mandarin duck and so on. In addition, there are 26 ancient glacier heritages such as cirque, icehouse and deep valleys. In December1996, the Lushan Reserve was listed as World Nature Heritage.