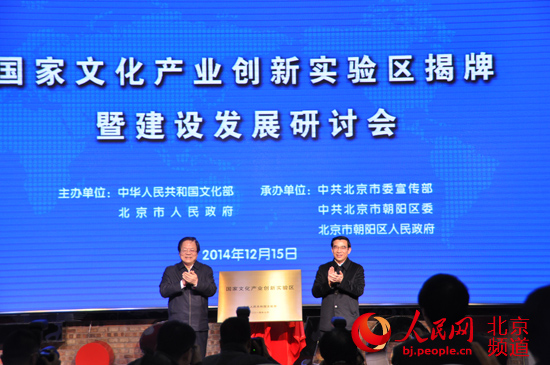 Cai Wu (L), Chinese minister of culture, and Wang Anshun (R), mayor of Beijing, jointly inaugurated China's first national culture industry innovation experimental zone in Beijing on Dec 15, 2014.
China's first state-level, culture industry innovation experimental zone was officially inaugurated in Beijing on Dec 15 to boost the development of culture industries in the country.
The opening ceremony was attended by Chinese minister of culture Cai Wu, Beijing mayor Wang Anshun and other high officials, as well as representatives from the business circle of China's culture industry.
The plan to establish the experimental zone was approved by the Chinese Ministry of Culture on July 31.
It is a testing field for the exploration of reforms in the culture industry, cultural economy, and industry integration.
The zone will be centered in Dingfuzhuang, one of Beijing's CBD areas.
According to the plan, the zone will focus on the development of six major industries, including the creative design industry, animation and game industry, entertainment industry, artwork transaction industry, digital culture industry and culture trade industry.
Cai said that the experimental zone will support the building of a number of important culture industry projects,which later can set an example and provide solutions for culture industry innovations around the country.
He hoped that it will attract many renowned culture enterprises from both home and abroad to settle in the experimental zone.
Beijing will strive hard to accelerate cultural system reform and actively explore new ways for the development of the culture industry, Wang said.