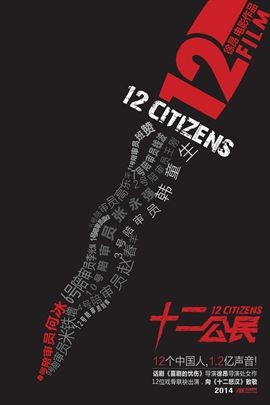 Chinese director Xu Ang's legal drama, "12 Citizens," won the "cinema today" people's choice award over the weekend at the conclusion of the Rome Film Festival.
"12 Citizens" won out in the "cinema today" category over 15 other films and was the only Chinese-language feature competing for one of the fest's biggest awards. The director borrowed from his real-life experiences to shape the 12 central figures in the film.
"The diversity of these characters represents my personal understanding of China, or to be more specific, of Beijing. These 12 people are based on people I have met. So, the discrimination, conflict and argument in the film are probably real things I have experienced."
A re-imagining of the 1957 Hollywood classic, "12 Angry Men," Xu's film follows a virtual courtroom of 12 men that deliberate over a case in which a young man that was adopted by a rich family went on to murder his birth father.
The other big winner of the festival is the Brazilian-English production, "Trash," which won the top award in the main Gala section in Rome.
Directed by Academy-award-winning British helmer, Stephen Daldry, "Trash" follows three boys in Rio that forage among the city's waste for a living, until they find a wallet that connects a politician with mass corruption.
We recommend:
| | | |
| --- | --- | --- |
| | | |
| Shaolin Kungfu staged in New Zealand  | The stage play Journey to the West debuts in Bangkok  |  The new look of ancient block at South Gate of Xi'an City Wall |