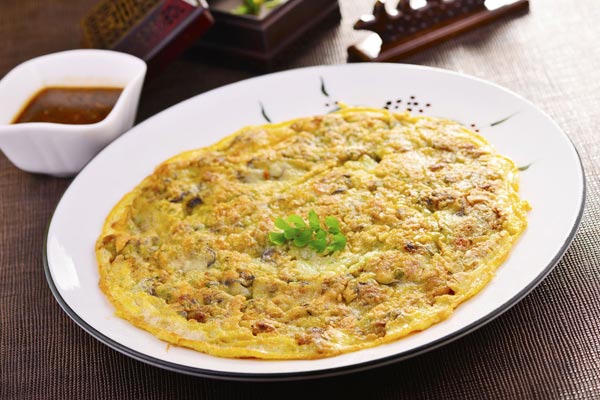 Oyster omelette served at Imperial Palace Restaurant. [Photo by Ye Jun / China Daily]
According to Tian Jing, general manager of Imperial Palace Restaurant in Beijing, the oyster omelette is a typical dish in Guangdong's Chaozhou and Shantou, known as gourmet capitals in the province. She says the dish is rich in amino acids - and helps to balance the liver and the yang factor in the body.
Tian says her restaurant provides many examples of the regional food style, which is known for dishes that are both delicious and nutritious.
Cold-spotted crab is one example. A fresh, full crab is boiled, and then immediately put into a refrigerator to seal its freshness before being served. Another recommended seafood option: braised sea cucumber with wild rice.
Imperial Palace offers many dishes made with natural produce. Some of the tastiest are Wutai Mountain's mushroom with potato slices, oil-braised fresh bamboo shoot from Tianmu Mountain, and a healthy morel with the "noble dendrobium", a nutritious herb believed to be good for the liver and kidneys.
Two typical Chaozhou and Shantou desserts are taro and sweet potato slices topped with syrup, and mashed taro with gingko nuts.
Founded in 1999, Imperial Palace is a middle- and high-end restaurant in Beijing known for providing consistent quality food and service.
Tian says the restaurant has inherited the region's gourmet traditions, just like the young man pictured in A Bite of China.