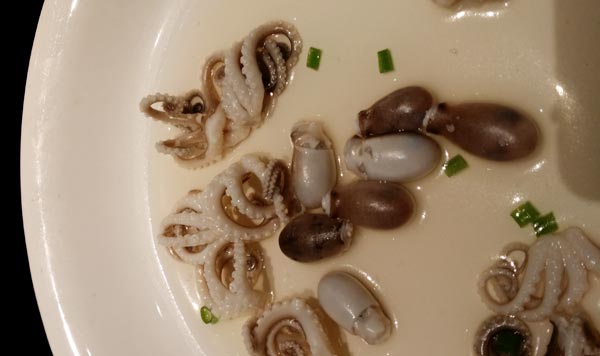 Tiny octopus served at Xin Rong Ji. [Photo by Ye Jun / China Daily]
Another segment of A Bite of China II pictures a father in East China's Zhejiang province, who captures mudskippers for his daughter with a fishhook from 10 meters away. Mudskippers move very rapidly on tidal-flat area, "walking" with strong pectoral fins. They are small but really tender and tasty. 
The fish are available at the Beijing branch of Xin Rong Ji, based in Zhejiang's coastal city Taizhou. The restaurant tops the fish with a layer of preserved vegetables, adding a lot of flavor.
Another sea delicacy, wangchao, a tiny octopus living in shallow seas, is also available here.
With its headquarters conveniently located in a coastal city, Xin Rong Ji has plenty of fresh seafoods to offer. Big mantis shrimp, jelly fish and whelk are served on a platter paved with ice as an appetizer. Deep-fried fresh hairtail and small yellow croaker comprise another nice cold dish.
The small yellow croaker has a tender steamed version that is also very worth trying. Steamed razor clam is surprising for its size and freshness.
For a staple food at Xin Rong Ji, try steamed black rice with sausage; for a nice dessert, ask for coconut and milk served in a fresh coconut shell.
In a seafood segment on A Bite of China II that's particularly touching, a young man returns from the city to inherit traditional oyster omelette-making from his father.