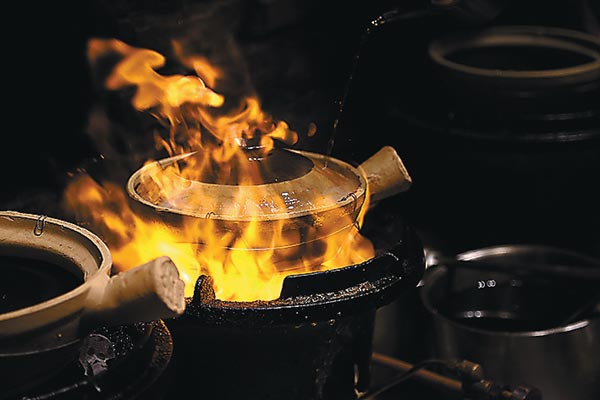 Wisca is famous for its quick-fire clay pot, with seasoned ingredients heated on a very hot fire until the pot cracks. Provided to China Daily
A popular food documentary on CCTV is the talk of the land, and Ye Jun finds it easy to enjoy many featured foods on restaurant plates in Beijing.
The second season of the CCTV documentary A Bite of China has been broadcast recently. Although there has been some controversy about it, I've just enjoyed the tempting images of good Chinese foods. 
The show's video crew is said to have gone to 150 places to shoot more than 300 kinds of food. But hungry viewers don't have to go to all those places to taste some of the best Chinese foods.
Wisca Restaurant was founded in 1992 on Guangzhou's Longjin Xilu, but the restaurant also has a branch in Beijing, with the same delicious foods. Wisca is famous for one delicacy: juejue bao, or quick-fire clay pot. Dishes with seasoned ingredients are put in a clay pot, which is heated on a very hot fire until the pot cracks.