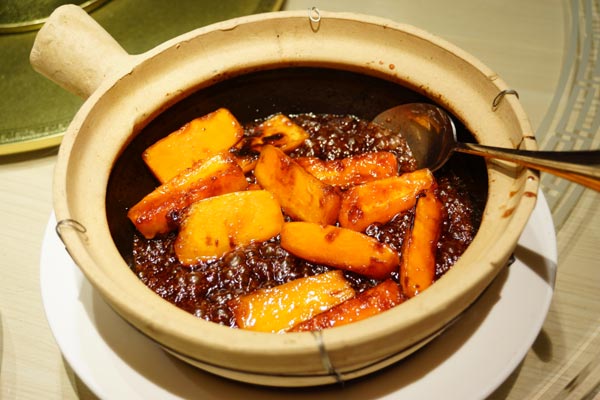 Papaya with sugar in clay pot at Wisca has a pleasing caramelized flavor. [Photo by Ye Jun / China Daily]
Then a waiter will run to present the dish at the customers' table. By the time it arrives and the lid is opened, the food inside is cooked to perfection, sizzling with a great smell.
Wisca's Guangzhou branch is pictured in one scene of A Bite of China II. The most famous clay pot dish at the restaurant is tender-tasting eel. But it also offers oysters, fish head, and Beijing-style lamb slices with coriander in the pot.
For vegetables, Wisca prepares a spring cabbage and also a broccoli in pot. Both are cooked until very tender, yet they remain fresh because of the quick preparation.
Wisca soup in pot is also pictured in the CCTV documentary. Other signatures are steamed rice in clay pot and traditional sweet soups.
A must-try that's not on the show: the eatery's dessert, an unexpected papaya in clay pot with sugar. The preparation gives the fruit a pleasing caramelized flavor.