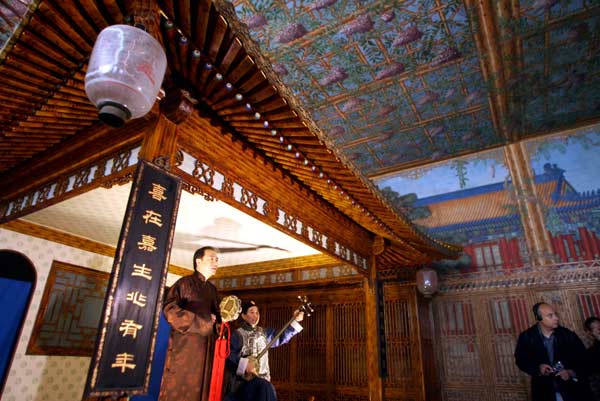 The renovation of the Juanqin Studio as Emperor Qianlong's retreat after retirement exemplifies the cooperation between the Palace Museum and the World Monuments Fund. Photos provided to China Daily
Very few people have had the luxury of riding a bicycle inside Beijing's Palace Museum. Claude Faubert is one of them. The director-general of the Canada Science and Technology Museum, based in Ottawa, is also a coordinator for international training at the Palace Museum.
Faubert had no idea how staff members of the Palace Museum got around in a palace that big. The problem was solved soon after he arrived in November.
"They gave me a bike and said 'come with us'. It was great. I felt very special indeed," says Faubert.
Authorities at the Palace Museum are trying to reach out to a wider global audience after succeeding at home. They are offering exchange programs to museum professionals through the International Council of Museums, the non-governmental network of museums and museum professionals headquartered in Paris.
"After 10 years, we have students from all over the world and the exchange of information is so much easier," says Shan Jixiang, director of the Palace Museum.
Set up last year as a joint project between the Palace Museum and the ICOM, the training center at the Palace Museum offers two workshops to 30 participants every year. Half of the students are from China and the other half are selected internationally by ICOM.
People from the Asia-Pacific region, Africa, Latin America and Europe have taken part in the workshops, where lecturers from China, Japan, Europe and South Africa have taught.
The first set of workshops was held last November for 10 days with a focus on museum management, and the second, on the topic of collection, was in April this year.
Terry Simioti Nyambe, assistant curator of ichthyology at the Livingstone Museum in Zambia, was the first person from Africa to participate in the program.
Nyambe says he is amazed by how well China has looked after its heritage.
We Recommend: