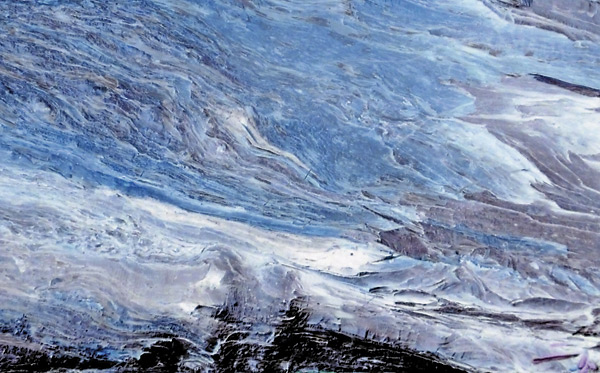 Zhu Jin's bark photos such as Sea features an appealing composition of Chinese ink painting. Photos Provided to China Daily
Have you ever observed the bark of any tree closely and has it ever occurred to you that it can be a creative piece of art?
Zhu Jin, deputy mayor of Nantong, has turned the bark into the roaring Yellow River, peaceful and shining lakes or valleys. His works have taken the form of traditional Chinese landscape painting or woodcut.
His creativity was triggered during a business trip to Beijing in 2010, when he accidentally came across the bark of a white poplar that looked extremely special to him. He took pictures of the bark and upon arriving home, he turned the image into a woodcut.
Last year, the local government held a creative photography competition. The Nantong Photography Association found it difficult to collect enough creative photography works. Zhu decided to offer his bark photos.
Wang Xiaohui, a well-known photographer in Shanghai, finds Zhu's bark series amazing.
"I have not seen any other works of the same kind. It is so unique. I think he can further explore more bravely and come out with more works to show us the small details of great nature," she says.
Zhu creates his art pieces based on the texture of the bark.
"It is interesting to do postmortem of the work later. You will always have some different ideas. Even for the same tree, it displays a different look at a different time," he says.
One sixth of Zhu's time is spent on business trips. The time on the road provides him opportunities to review his works and rethink the materials to enhance his products. The bark series was shot in Beijing, Nanjing in Jiangsu province and Shenzhen in Guangdong province.
"The most important thing is observation. Feelings would arise from what you have seen. It is actually a reflection of a photographer's state of mind," he adds.