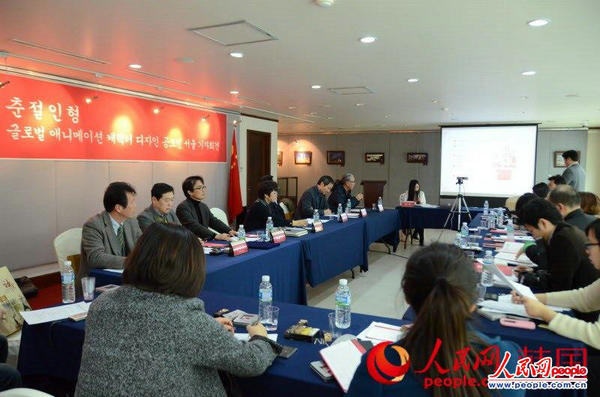 The press conference of comic design competition for collecting a cartoon character 'Spring Wawa' held in S. Korea on Mar. 13, 2014. [Photo/ people.com.cn]
A Chinese cartoon company launched a comic design competition in South Korea for collecting a cartoon character "Spring Wawa", which means "a doll of the Spring Festival" in Chinese, to represent culture of China' s lunar new year on Mar. 13, 2014.
The competition, held by the Tianjin-based Shenjie Cartoon Comic Corporation, opens to cartoonists all over the world to select a unique comic character for the Spring Festival, aiming at displaying and spreading China's traditional culture overseas. South Korea is the first stop of the competition campaign trail.
"Santa Claus has spread western culture around the world and boosted the economy of Christmas, which inspires me to create our own 'Spring Wawa' to promote China's traditional festival culture overseas and stimulate related economy," said Du Jinjiang, vice president of Shenjie Cartoon Comic Corporation.
Impressed by the rapid development of South Korea's cartoon industry in recent years, Du decided to come to Seoul to look for new creative ideas from cartoonists here, and thus add "more modern elements and beauty" into the design of "Spring Wawa."
"A new story of China's spring festival will be definitely told by the new 'Spring Wawa'. This competition will also create new opportunities for exchanges and cooperation between China and South Korea's culture and creative industry," said Kim Kwang-hwan, Deputy Chairman of the Seoul International Cartoon & Animation Festival(SICAF).
Han Meilin, a famous Chinese artist who created "Fuwa" for 2008 Beijing Olympic Games, Peter Vesterbacka, CEO of the Rovio designing the "Angry bird" and other renowned artists worldwide are among judges of this competition.
This competition will last for almost a year for collecting comic design works among domestic and foreign artists. The winner of the Highest Golden Award will get around 48,900 U.S. dollars.
The other stops of this competition campaign include dozens of countries and districts around the world, among them Thailand, Argentina, the United States, France .
In 2008, Shenjie Cartoon Comic Corporation has brought its 20- volume graphic novel of China's ancient masterpiece, "Romance of the Three Kingdoms," to South Korea, which was then published by local publishing house in Korean and drew vast attention.
we recommend: