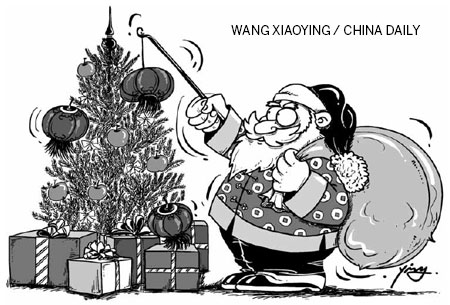 Many Westerners may be surprised at the way Chinese people have made Christmas a festival of their own. More surprising for them would be the ease with which Chinese people have added so many Chinese elements to an essentially Western celebration.
For as long as people in their 20s can remember, apples have been wrapped in red and green paper to be gifted as presents on Christmas Eve, because the pronunciation of the first characters in apple and Christmas Eve sound like: "safe and sound" in Chinese.
Just like Valentine's Day, Christmas with distinguishable Chinese characteristics has become a celebration for people in China to forget, no matter how temporarily, their humdrum everyday life.
Last year, a photograph of a Christmas tree in Chengdu, Sichuan province, became a big hit on Sina micro blog. The tree, topped with a huge dice, was decorated with mahjong tiles and Chinese red lanterns. Why? Because people in Chengdu are known for their fondness for mahjong.
Western traditions such as gifting roses on Valentine's Day and partying on Christmas Eve are attractive for young people, especially college students, who crave for diverse lifestyles and love fashion. They choose such days to meet up with friends, go to the movies or enjoy a dinner with families, or to spend a romantic evening with their partners.
Today's youths are under great pressure - either from work or studies - and don't get enough time to spend with their families or friends. And Western festivals like Christmas provide them a good opportunity to make up for that loss.
The popularity of Western holidays in China shows that an increasing number of Chinese people are pursuing individuality and are ready to spend money to buy more quality leisure time.
Globalization has introduced many foreign cultures to China and influenced the life of ordinary Chinese people, especially those who have benefited from the three decades of reform and opening-up. Also, the rapid pace of social development has prompted many Chinese to pay greater attention to recreation and leisure. Of course, the hype created by the media and the accompanying marketing blitzkrieg have played an important role in making Western festivals popular among the Chinese people.
The increasing popularity of Western festivals, however, has drawn the ire of nationalists. A few years ago, 10 post-doctoral research scholars from prestigious Chinese universities wrote an open letter asking Chinese people to boycott Christmas celebrations and resist the invasion of foreign soft power. They said that people need to be careful about the fallout of making Christmas a "Chinese festival" and take steps to protect their culture and history.
Christmas sure does have a profound religious connotation and is part of 2,000 years of Western tradition, but in China it is more of a celebration, a commercial carnival, if you will, with all the colors of life.
In a recent online survey on what netizens think of Chinese-style Christmas, 39.2 percent of the respondents said that it did not matter whether the day was celebrated in a Chinese or Western way as long as it helped people relax and have a good time. This means more than one-third of the people like Christmas and merely use it as an opportunity to celebrate an occasion.
But there is no denying that many of the Chinese people, especially the youth, who celebrate Western festivals don't know why they are celebrated or observed. In contrast, most Chinese know full well the origins and importance of Chinese festivals; even school students know why Spring Festival, Dragon Boat Festival, Tomb Sweeping Day or the National Day is celebrated. This is the power and unconscious influence of traditional culture and that cannot be erased by the influence of Western festivals.
The seeming "invasion" of foreign culture, to a certain extent, poses a threat to traditional Chinese culture. The promotion of Western culture and values at the material level is evident in products from McDonalds and iPhone to fashion and luxury brands.
But Chinese culture, rooted as it is in thousands of years of history, can ward off the evil influence of foreign cultures and absorb the merits of exotic cultures to become even richer. Therefore, there is no need to think that Western cultural influence, thanks to globalization, will undermine the importance of Chinese culture.
The author is a writer with China Daily. xiaolixin@chinadaily.com.cn
We recommend: