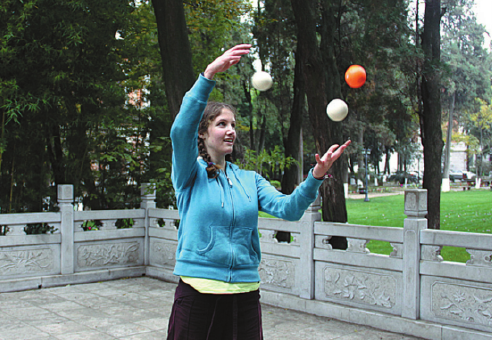 HU YONGQI/CHINA DAILY
Amelie Degrande, 19, of Belgium, who is eager to learn kung fu in China, shows her talent by juggling balls.
Since she was a child, Amelie Degrande, a 19-year-old from a small town in Belgium, has wanted to learn kung fu in China.
She is now fulfilling that dream at Yunnan University.
Degrande is one of 357 students at the university's School of Overseas Students, which is supported by the Office of Chinese Language Council International-known colloquially as Hanban-that oversees the Confucius Institute.
She can now ride a unicycle, perform acrobatic movements and juggle up to seven balls.
Her outgoing personality drove her to be more involved with locals in Kunming, where she said people seem "addicted" to singing and dancing.
In her spare time, Degrande strolls around the Green Lake Park, east of the university. She said it's been fun trying to imitate traditional Tibetan and Lisu folk songs and dances. She now is fluent in five different ethnic dance styles.
During the summer, Degrande visited Dali Bai autonomous prefecture, a tourist destination in western Yunnan. She stayed a week in a Tibetan monastery to observe the monks' daily lives and learn about Chinese philosophy and theory from a monk.
"It's pretty amazing that the theories are much different from what I understood, showing the profoundness of the Chinese culture," she said.
To meet the needs of students like Degrande, who are interested in Chinese culture, the school provides optional classes such as learning tai chi, Chinese chess and how to conduct a tea ceremony. The optional classes have attracted a large number of students, mostly from East and Southeast Asia.
Chen Xin, chief recruiter at the school, said more than 60 percent of the students are from Asia. The school maintains exchanges with more than 80 universities in 20 countries. Since 1988, the school has trained more than 15,000 students from 30 countries and regions.
"Many of the graduates bridge the cultural gap between their countries and Yunnan in China. In this sense, the language curricula is just one medium for them to get involved with the Chinese people and the country's social development," Chen said.
We recommend: