BEIJING
Dunhuang in oils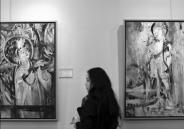 CHINA DAILY
Through 56 oil paintings, Chinese artist Chai Gang expresses his feelings about Dunhuang in Northwest China's Gansu province. In the exhibition, From Past to Present, the artist portrays the legendary stop on the Silk Road, which he has visited every year for 10 years. The paintings depict the renowned Dunhuang Grottoes, the natural scenery and the local people's daily lives. After the Beijing exhibition, the works will tour the country, including a stop in the artist's hometown in Shandong province.
Until Dec 14.Beijing International Copyright Trade Center,2F of Jingguang Center, Subway Line 10,Hujialou Station, Chaoyang district, Beijing.010-6597-4890-666.
Mongolian sounds
Mongolian band Yik-Ccn will perform in Beijing. Yik-Ccn are seven Mongolian musicians, with Mungke, Husel, Jargal, Borjigon and Davu playing matouqin, or horse-head fiddles, Bao Yin delivering percussion and Gard playing huobusi, a Mongolian plucked musical instrument. All members are masters of khoomei, throat singing, and long chanting techniques indigenous to Mongolia.
8:30 pm on Dec 21.CD Blues, Building 2,1-28,29, No 39,Shenlujie, north gate of Ritan Park, Chaoyang district, Beijing.13810253534.
Pure art
Hongren Art Space is presenting a group exhibition of contemporary Chinese ink painting. The exhibition features 10 emerging Chinese ink artists, Cheng Dali, Long Rui, Huo Chunyang, Man Weiqi, Bai Yunxiang, Guan Yuliang, Lin Rongsheng, Jia Guangjian, Zhang Jigang and Fang Xiang. These artists'works are loyal to a traditional Chinese aesthetic, maintaining the beauty of classic Chinese ink art that has not been influenced by Western art techniques.
10 am to 6 pm, until Dec 10. Hongren Art Space,706 Zone B,798 Art District,2 Jiuxianqiao Road, Chaoyang district, Beijing.010-5762-6322.
SHANGHAI
Bard in Chinese
Shanghai Shakespeare is a new theater group formed by Thomas Caron, dedicated to performing the plays of William Shakespeare in Chinese. Shanghai Shakespeare will present two plays over the weekend: Pericles, and Antony and Cleopatra. Buy 10 tickets and receive 20 percent off the total price.
Pericles:7:30 pm, Dec 7, 3 pm, Dec 8;Antony and Cleopatra:7:30 pm, Dec 8. Shanghai QSW (Shallow Water Bay)Culture Center-Grand Theater,179 Yichang Road, Shanghai. 021-6266-1110.
Star takes the stage
Zhang Chu will perform at Shanghai Grand Stage on Dec 14.The singer-songwriter came to prominence in the 1990s, as one of the leading players in the golden age of Chinese rock music. Zhang and Shanghai-based music critic Sun Mengjin will give a public discussion at Minsheng Art Museum on Dec 8,talking about music, poetry and past glories.
3 pm, Dec 8.Minsheng Art Museum, Building F,570 Huaihai Road, Shanghai. 021-6282-8729.
Teacher inspires
Art works by Jin Lili and her students at Shanghai YF Vocational&Polytechnic School are on show at Shanghai Film Museum. The exhibition, What Are You
Doing Today has been organized by former students of the school previously known as Huashan Art School, one of the earliest art educational institutions in Shanghai.
9 am-5 pm, till Dec 8. Shanghai Film Museum,595 Caoxi North Road, Xuhui district, Shanghai. 021-6426-8666.
GUANGZHOU
Dadawa talks music
Chinese musician Zhu Zheqin, known as Dadawa in the West, is visiting Fangsuo Commune to give a lecture about her latest album Moonrise, which was more than four years in the making. Dadawa's team traveled 20,000 kilometers to remote areas across the country to uncover ethnic music, and mixed the ancient sounds with contemporary ideas by young musicians. Dadawa is the face of new music in China.
3 pm-5 pm, Dec 8.Fangsuo Commune, TaiKoo Hui Shopping Mall,383 Tianhe Road, Tianhe district, Guangzhou. 020-3868-2327.
Electrifying duo
Transforming classical music into electrifying pop and rock, the Anderson&Roe piano duo from the United States will return to Xinghai Concert Hall this Sunday for the first time since last year's well-received performance. Their repertoire includes many familiar pieces, such as Johann Strauss' Blue Danube Fantasy, Georges Bizet's Carmen Fantasy and the Butterfly Lovers' Concerto by Chen Gang and He Zhanhao. But the piano duo transforms these famous pieces of music with improvisation.
8 pm, Dec 8.Symphony Hall, Xinghai Concert Hall, 33 Qingbo Lu, Ersha Island, Yuexiu district, Guangzhou. 020-8735-3869.
We recommend: