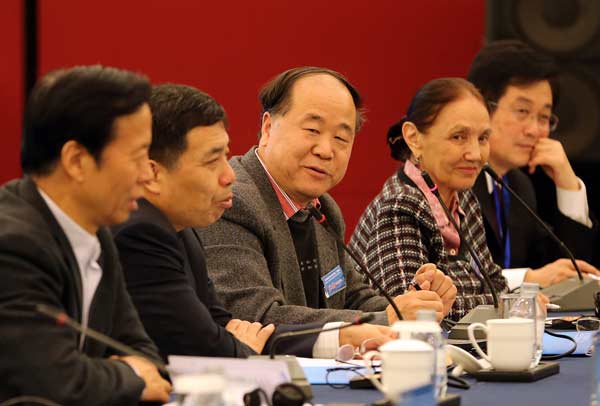 Nobel laureate Mo Yan (center) speaks at a symposium on Sinologists and International Cultural Dialogue in Beijing. Jiang Dong / China Daily
When Sinologists get together, they don't just talk about museums and artifacts.
They discuss science fiction, international commerce, national governance and Chinese literature, among others.
"Some of you are into Chinese art, some into costumes, some into how we raise crickets," says Mo Yan, the Nobel laureate. "But they're all Chinese studies and will contribute to cultural exchange."
He was speaking at a two-day symposium on Sinologists and International Cultural Dialogue held by the Ministry of Culture, which ended on Dec 4. The gathering, held at the National Museum of China, was attended by some 40 Sinologists.
Mo Yan had compared Chinese study to Italo Calvino's Invisible Cities. "For Marco Polo (the leading character), there is no Venice in the book, but in each city he depicts, there is an underlying Venice," he says.
Huang Jing, a professor with the Lee Kuan Yew School of Public Policy in Singapore, says Chinese study today is no longer just museum studies. "With all of its development in the last 30 years, it should include all schools of thoughts, its governance, economy and social basis. It should expand with modernization."
Interests in Chinese society and culture have also bloomed.
Yury Tavrovsky, a professor with Russian People's Friendship University in Moscow, has closely followed the country down to every exhibition in the National Museum of China. "We want to know the country and coordinate what we do with it," he says.
The symposium also devoted a full segment to the discussion on the role of Chinese literature on the international arena.
"We grew up reading about Chinese swordsmanship," says Artorn Fungtammasan, a Thai literary critic and researcher on Chinese literature. "For us, Romance of the Three Kingdoms is the book we judge others by. We see if people are as loyal as Guan Yu and resourceful as Zhuge Liang (both characters from the novel written by Luo Guanzhong in the 14th century)."
Li Jingze, a critic in Beijing, spoke about the country's efforts in promoting translation of modern Chinese literature. Every year, 100 translations of Chinese literature after 1978 will be selected and sponsored to go abroad.
"You would think 100 is quite a large number for such publications, but since we announced the decision a few months back, we've had entries exceeding that number."
At the opening ceremony of the symposium, Cai Wu, the Minister of Culture, said: "In the last 30 years, China has undergone huge changes. So, studies on the country, its idea and people behind it are more important than ever."
"The country needs to be studied thoroughly, objectively and comprehensively. Then we will see that all cultures have things in common and we can better understand each other."
With the different interests and research results, Liu Mengxi, president at Institute of Chinese Culture, summed up Chinese study in one single sentence: "China is a unity in diversity. It has harmony in diversity."
We recommend: