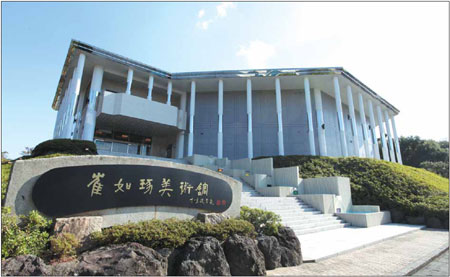 The gallery in the city of Ito is a striking building with a pure white exterior. Photos Provided to China Daily
Famed watercolorist Cui Ruzhuo says his new gallery in Japan serves as a cultural bridge, Zhuan Ti reports
Cui Ruzhuo, a renowned Chinese painter who has visited many parts of the world, says one of his important missions is enhancing international cultural exchanges.
His latest move is the opening of the Cui Ruzhuo Art Gallery in the city of Ito, Japan on Nov 18.
More than 100 guests including the Chinese Ambassador to Japan Cheng Yonghua, Deputy President of the Chinese National Academy of Arts Tian Liming as well as Japanese artists and politicians attended the unveiling ceremony.
Ambassador Cheng delivered a speech at the ceremony, saying that he expects the museum will contribute to strengthened ties between the two countries, especially people-to-people contacts.
Japanese guests attending the ceremony also spoke highly of the artist's achievements.
Shouli Sekiguchi, director-general of the gallery, is one of Cui's best friends in Japan. He said he is deeply impressed by the artist's work and it was his suggestion that Cui open the gallery in Japan.
During the ceremony, Cui outlined what he hopes to accomplish with the gallery.
He said that China and Japan have already built close economic ties, but people usually neglect the need to form deep cultural bonds.
"Painting and calligraphy are both treasures of Chinese culture and can also be a bridge for Sino-Japanese cultural exchange," he said.
For hundreds of years, the cultures of China and Japan have influenced one another.
Cultural exchanges will continue to form an important bond between the two countries in the future, he added.
Born in Beijing in 1944, Cui fell in love with watercolor painting and Chinese calligraphy at a young age.
He settled in the United States in 1981. In 1996, he returned to China and taught at the Central Academy of Fine Arts. Currently, he is a professor at the Chinese National Academy of Arts.
Unlike many Chinese watercolor painters, Cui has traveled around the world, and his works combine the natural stroke of Chinese brushwork with Western aesthetics, making them equally appealing to enthusiasts of fine art in the East and West.
"I hope that through my work Chinese arts can radiate to the West and the artworks can act as a medium to allow the world know more about the Chinese culture," Cui said.
We recommend: