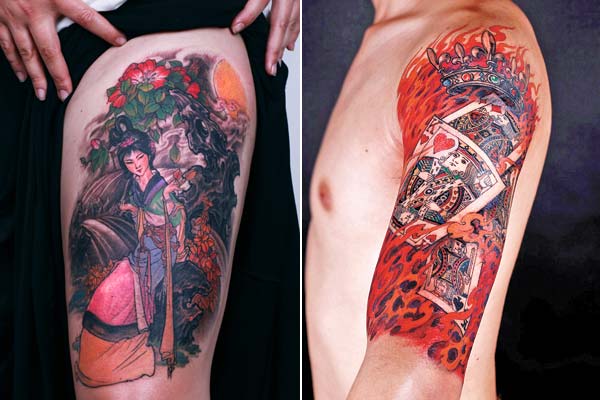 At He Wenqian's tattoo studio, customized designs are meant to express individuality, while guests choose traditional patterns as auspicious icons. Provided to China Daily
Tattoos' social insinuations are changing more rapidly, morphing from stigmatizing marks of deviance to acceptable expressions of individuality. Gan Tian looks at their transforming image.
He Wenqian is a portrait of how tattoos' image has continued changing in China. The tattoo artist says Chinese who got inked when he started his studio in 2002 not only were stereotyped as freaks and outlaws — they often were. Now, all walks of life, especially among the younger generation, are getting tattoos. He says more "elites" are getting inked. His customers today include businesspeople, pro athletes and bank clerks. "A few years ago, I wouldn't dare tell people what I did for a living," He recalls.
"Now, it's a great conversation starter."
Not only are the demographics getting tattoos diversifying but so are the images.
"People work with artists to create custom designs that share their personal stories," He says. "It's a whole different picture now."
Traditional subjects' allusions are changing, too. Dragons, pheonixes and Chinese ghosts remain the most popular. They used to be symbols of intimidation among street fighters. Now, they're simply auspicious icons.
"In the late 1990s and early 2000s, men who had these tattoos believed these patterns would make them look tougher and used different designs to indicate associations with social groups," China Association of Tattoo Artists chairman Wang Qingyuan explains.
"Now, they're just good luck emblems."
Women are more likely to get such likenesses as birds and flowers rendered in softer lines and brighter colors, Wang says.
English initials of names and quotes are increasingly prevalent. Some clients want to commemorate special moments, loved ones and parents by inking their initials on their bodies, He says.
Still, many among the younger generation hide their tattoos from their elders.
We recommend: