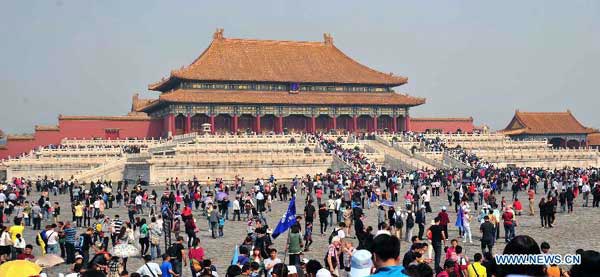 Tourists visit the Palace Museum in Beijing, capital of China, Oct. 02, 2012 .(Xinhua/Hu Guolin)
The Palace Museum, housed in the Forbidden City in Beijing, will expand its exhibition area to alleviate the pressure of huge tourist number.
During the week-long National Day holiday, the museum attracted more than 710,000 visitors with the peak daily number reaching 175,000 on Oct 2, according to museum.
Shan Jixiang, director of the museum, said on Wednesday he felt confident the facility could cope with more tourists in the future, with many projects under construction to meet that goal.
It plans to restore the ancient Internal Affairs Department, located in the western Palace Museum, and has received approval from the World Heritage Committee.
Some temporary buildings, garden houses and workplaces of research institutes will be gradually moved out of the key visiting area of the Palace Museum, Shan said.
As of 2020, 76 percent of the palace will be open to public, while currently it has only opened 45 percent of the area, he said.
Since the museum was established in 1925, most of its western part, which was called "the women's world" and housed the Emperor's family, has been closed to the public, but it will be open to visitors by 2015.
A 2,800-square-meter exhibition area will be constructed at the Meridian Gate to display the museum's art collections.
Another exhibition center to display ancient architectural collections is under construction at the East Glorious Gate.
Also, for the first time, tourists will be able to visit a section of the high city wall that connects the East Glorious Gate to the southeast corner tower.
Shan said one-sixth of the city wall would be open to visitors.
We recommend: