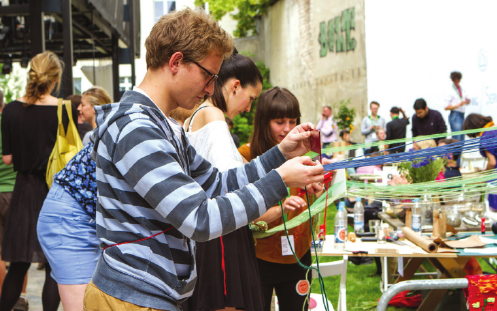 People join in the Participatory City project launched by the BMW Guggenheim Lab in Berlin.
To identify some of the most urgent and controversial challenges for cities today and their possible solutions, the BMW Guggenheim Lab, defined as an urban think tank and coinitiated by the Solomon R. Guggenheim Foundation and the BMW Group, has spent the past two years traveling from New York to Berlin and Mumbai, to inspire innovative reflections on urban life.
The lab launched in New York with a focus on "confronting comfort", then traveled to Berlin with the theme of "making" that emphasizes public participation in building cities, and finally opened in Mumbai where projects explored the topic of "privacy".
With mobile structures designed by Japanese architects, including a novel carbonfiber house built in New York and Berlin and a set of bamboo structures installed at multiple locations in Mumbai, the labs have served as community centers of another kind.
They've attracted tens of thousands of participants from more than 160 countries to engage both on-site and online in the lab's nearly 600 interactive public programs, often in the form of workshops, film screenings and research projects, where participating architects, academics and artists are ready to share their expertise.
The ongoing exhibition Participatory City: 100 Urban Trends from the BMW Guggenheim Lab, sums up these experiences with 100 of the most discussed concepts at the lab. Projections of these trends alongside drawings, videos, and other visual representations are displayed on the Guggenheim gallery walls in an all-digital installation.
In addition, interested architects, academics and artists from outside those three cities have created digital responses to the 100 Urban Trends, including one from Hong Kong that particularly responds to Rural Migration, the phenomenon of rural villagers moving to urban areas for work.
"We have extended our mission beyond the walls of the museum, providing the Guggenheim with new ways to engage directly with the public and demonstrate our commitment to innovation in the fields of architecture and urbanism," says Richard Armstrong, director of the Solomon R. Guggenheim Museum and Foundation.
Public participation is one key factor that makes the project come full circle. Curator Maria Nicanor says they were lucky to have people jump in with a natural interest in urbanism and willingness to share their opinions, one reaction usually absent from other art events that common people can hardly have opinions about.
Calling the lab a professional field event with non-expert interaction, Nicanor says it makes people feel comfortable to walk around while grabbing a piece of paper and talking to experts. Even so, the way people participated was interestingly different.
New York has seen participation from many young people, architecture students especially. Berlin citizens were much more cautious about what the project meant and how it would affect them by asking harder questions. In Mumbai, people of a wide range of ages participated.
But people in these three meticulously chosen cities have pointed out many urban trends that proved more common than unique, adding to the project a universal value and illuminating some significance for people and megacities that didn't even participate.
Among those universally emerging and inspiring trends, there are for example, Local Food, a growing concern over food quality by attaching greater importance to locally produced agricultural products, and Accessibility, meaning urban design that takes into account both the full spectrum of other-abled and a citizen's ability to obtain basic services such as health care and education.