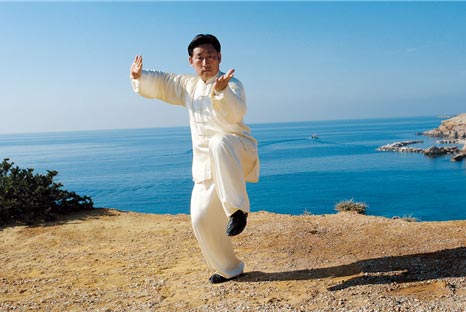 Chen Xiaowang's Chen-style tai chi features his trademark fajin, or short bursts of power. (Shanghai Daily)
Master Chen Xiaowang is not only a legendary martial arts superhero who has motivated thousands of foreigners to study tai chi, but also a successful entrepreneur who wants to "build tai chi clubs just like franchises."
"To have that business mode brings reputation," 68-year-old Chen said in a recent interview during the Shanghai Tai Chi Cultural Carnival at the Oriental Pearl Tower. Tai chi masters from China and overseas competed and staged demonstrations.
Chen is the "19th generation standard bearer of Chen-style tai chi" and says 300,000 people around the world have joined his tai chi association, including 30,000 whom he has trained.
Starting in the 1990s, Chen lived in Sydney, Australia, for 10 years, teaching tai chi, spreading its culture and starting his business.
"I realized it is not possible to have so many foreigners study tai chi in China, and we need to teach in foreign countries," he said.
He's now back in his hometown, the Chen Family Village in central China's Henan Province, teaching and spreading the tai chi message.
Many people go there to train with the master.
Chen embodies the spirit of tai chi, the martial art that looks slow and soft, but has surprising explosive power when practiced by a master. It is, after all, a martial art. It is widely practiced by many elderly people for its health benefits that derive from the circulation of qi or life energy.
After Bruce Lee showed the world how cool spinning a nunchuck could be, Chen demonstrated "slow" tai chi's combat power in real fights with martial artists from various disciplines.
He organized the worldwide Xiaowang Tai Chi Association, which has 60 centers in many countries, including Australia, France, Germany, Japan, Malaysia, the US and the UK. And, of course, in China. He selects his best students and trains them as coaches whom he employs in his association.
Legends swirl around his exploits. Chen takes on all comers. He has been challenged many times by martial artists, some asking to spar and some who ambushed him.
He has never lost. Stronger men have tried to push him to the ground. They failed.
We recommend: